Over the last few months I have recieved a number of blog awards and tags and I have been rather slack in not responding to them... mostly because I have come online to post a creation and don't want to do two posts one straight after the other, and I just don't think to schedule it!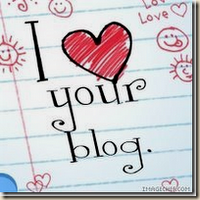 Back in August
Sephi
gave me the "I love your blog" award. The rules of this award are: (1) The winner can put the logo on their blog. (2) Link the person you received your award from. (3) Nominate at least 7 other blogs. (4) Put links of those blogs on yours. (5) Leave a message on the blogs of the girls or boys you've nominated.
In November
Brooke
tagged me as an inspiration. No rules with this one but list some inspiration.
In December
Brooke
gave me the Butterfly Award. The rules on this one are:
1. Post the award logo on your blog.

2. Add the link to the person who nominated you.

3. Nominate 10 other blogs and add post their links as well.

4. Let those people know that they received the award.
Ramona
also gave me this award in December, so I am just going to nominate one batch of 10. In fact this list of 10 is for all the above :)
Jayne
- completely different style and colour preferences to me, which I need
Marelle
- what's not to love?
Teneale
- love her style, and such skill!
Claire
- I wish I could scrap like her! Gorgeous cards too, talent all-round!
Yvonne
- more fabulous skills... and she's got me using Crystal Effects again
Lin Mei
- she's a riot!
Makeesha
- she comes up with some amazing stuff, even the left-field colour challenges are not to be ignored
Karen
- I love seeing the ingenious things Karen comes up with, like
this
Kristina
- Of course Kristina has to be in here... her colour challenges are a highlight of my week! While these colours are always an option for me everyday, she provides the impetus to use them, combine them and come up with something surprisingly gorgeous (hopefully)
Laura
- Someone else who produces gorgeous stuff, but I seriously love it when she uses a bunch of sketches with the same product