The girls had a birthday party to attend this afternoon, and as I was just itching to stamp I managed to pull together some supplies and create this:
Once again, inspired by the wrapping paper, and a nice easy design (though I think I spent longer trying to find where I had temporarily housed my circle punches that I did actually making the card!). I pulled out the retired hostess set "Let's Party" and my Bold Brights markers and went to town. I used Real Red for the card base and punched circles (1 1/2" for the colours) from various Bold Brights colours. I coloured the letters only from the sentiment and stamped them on Whisper White before punching it with the 1 3/8" circle. This was adhered to the Brilliant Blue circle that was then attached to the card front with dimensionals, the other circles were adhered to the card front and the party images popped up with dimensionals.
The party itself was for a 6 year old boy, with a few friends of the older brother thrown in... this photo was taken less than 5 mins after the clown arrived: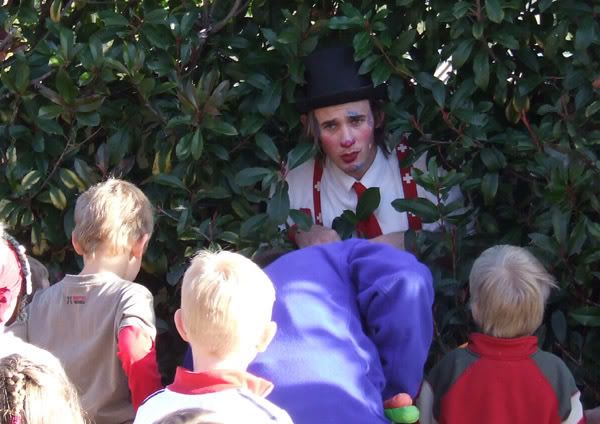 They had him backed into the hedge! He seriously earnt his money today. Especially with stunts like this: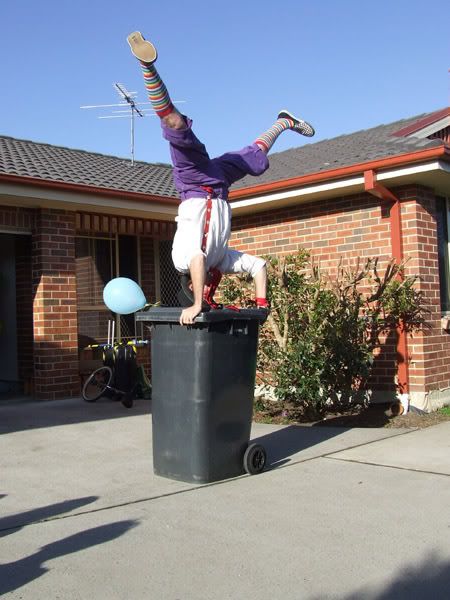 And this:
Although, we are not sure the kids were listening when we said "don't try this at home"... hopefully we won't have a heap of them hospitalised for trying to emulate him!