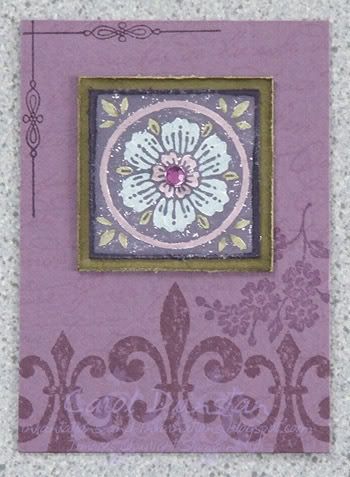 Yesterday I went into the Newcastle Craft Fair. As I was meeting some people I decided to make up some ATC's. It's been so long since I made one I had to look up the measurements to be sure (2 1/1" x 3 1/2" for anyone else who has forgotten
). For this ATC I used Carte Postal (from the SU Summer Mini) and French Script (retiring at the end of the month!). I got the colours for this from a colour guide that features the current In Colors (SU put on the guide on the demo website), and the colours are Vintage Violet, Perfect Plum, Bordering Blue and True Thyme. I loved how this came out! The French Script was stamped on the Perfect Plum base using Pale Plum ink (since I wanted a really subtle effect) and over that I have stamped various images from the Carte Postale set using VersaMark and Perfect Plum ink. For the flower motif I stamped in Vintage Violet, let it dry thoroughly and then coloured using markers. The Perfect Plum marker was much darker than I wanted so I scribbled it on a Stamp-a-ma-jig imaging sheet and picked some of it up with a Pale Plum marker, creating an in-between shade. The Thyme layer had it's edge sponged before it and the flower motif had their edges distressed. After sticking all that together I finished them off with an adhesive gem as the flower centre.
Anyone in the area reading this I encourage you to pop along to the fair. It was wonderful to have some of those shops come here (though not sure my wallet feels the same). I'm really looking forward to it's return next year.