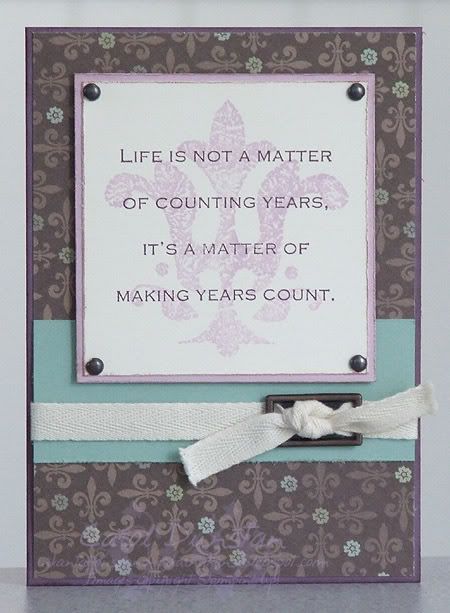 I have two cards to share with you in this post. I made the card above first and thought I'd try a slightly different colour combination and arrangement for something perhaps more unisex, which you can see below.
Both cards have a Perfect Plum base with some Enchante paper layered on top. The main image uses a fleur de lis from Finest Flourishes stamped in a Subtle ink on Very Vanilla cardstock, and over the top a sentiment from the It's Your Birthday set has been stamped in Chocolate Chip. In the firstcard I have used Pale Plum and Sage Shadow layers, in the second card the layers are Certainly Celery and Pale Plum. The edges of these layers have been lightly sponged with Close to Cocoa and roughed up using the distressing tool in the Cutter Kit. This main image has also been raised up on dimensionals. Embellishments are from the Aged Copper Hodgepodge collection. narrow twill has been wrapped around the Enchante layer, tied in a knot and the ends trimmed and frayed.
The Enchante paper has to be my favourite range. I have another card using it up on
Elite Challenges
, and I will share with you later. This paper, and the coordinating Carte Postale and French Flair sets are currently available in the Summer Mini catalogue. Don't forget that the mini ends on March 31st and there are no guarentees that any products will make it into the 08/09 Idea Book & Catalogue. If you love them too and haven't already ordered them, don't miss out!
Contact me
today to place your order.