I haven't had a chance to finish any projects today, so I thought I would share with you some simple & quick cards I made last week. Admittedly there's not a lot of stamping, but hey... kinda makes for some of the insane things I attempt at other times!
I selected some sheets of Certainly Celery paper (these ones are actually from the Palette of Prints pad) and then cut them in half. I adhered them along the top to a card base and then trimmed the excess off with my scissors. Unfortunately I wasn't thinking straight when I made this first one and didn't think to do the stamping until after everything else was done! Lesson learnt, the stamping was done at this point on the other cards.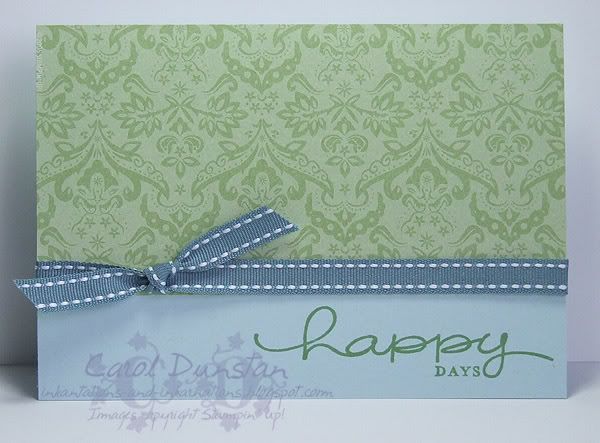 I then attached the ribbon. The one above has the ribbon tucked in behind the paper on both sides, the other two have it only tucked under on the right. And the last step was that final piece of embellishment. What I like best about these cards is they would be suitable for men or women (ok, maybe not the flowery one below so much, but you could get away with it!).
All supplies by Stampin' Up!
Cardstock: River Rock, Soft Sky
Paper: Certainly Celery Prints
Stamp set: Happy Everything
Ink: Wild Wasabi
Accessories: Theater Ribbon Originals, Blue Bayou Double-Stitched ribbon, Antique Brass Hodgepodge, Ice Square Rhinestone Brads