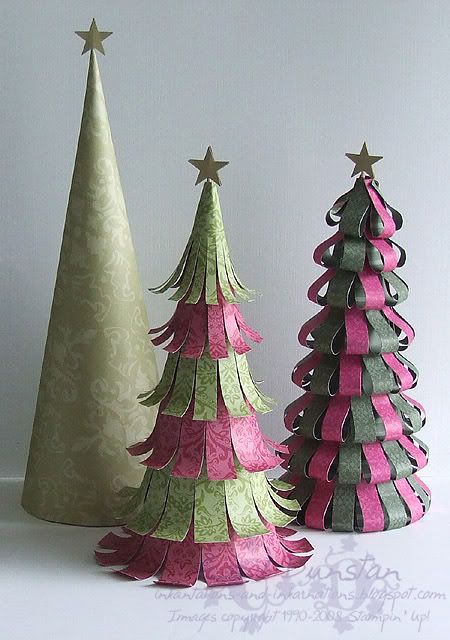 I made these over the weekend, but every time I have had a chance to take a photo of them it's been overcast and dark! Even when I did take these photos yesterday there were clouds hanging around but it was a vast improvement on what it had been.
I picked up some polystyrene foam cones a few weeks back with the intention of turning them into Christmas trees. I was originally going to cover them like Jayne had last year, but then decided I wanted a different look. For the tall one I wanted to wrap it with a sheet of patterned paper and had intended on decorating it with "baubles" but once the paper was on I decided I liked it's simplicity as it was, so it remains unadorned. I did touch up the star with a Barely Banana marker so there was greater contrast between the Brushed Gold cardstock and River Rock paper. It's only a subtle difference but I was much happier with the end result.
I had seen a few trees done in this loopy style so decided I'd give that a go next. I used the equivalent of a whole sheet of 12x12 patterned paper on this (two half sheets to get the different colours), but I have done the top of mine differently since I wanted a uniform look. That top row needs some work, the paper is too bulky to bend around properly, but looks fine if you don't look too closely, LOL.
For this last one I created a fringed look... and opted for different paper. I had intended sticking with the gorgeous Holiday Harmony, but decided these two papers would be similar enough to fit right in. I'm quite happy with how this one worked out because for a start it was sitting in the "too hard" basket... but I persevered and pulled off a great little tree.
Most supplies by Stampin' Up!
Cardstock: Brushed Metallics - Gold
Stamp Set: none
Inks: none
Accessories: Barely Banana marker, Holiday Harmony paper, Old Olive Prints paper, Rose Red Prints paper, Star punch, mini glue dots, Sticky Strip, toothpicks, polystyrene foam cones