This morning I've posted two new cards over at the Elite Challenges blog.

For this first one I used Trendy Trees again, and in a similar layout to the card I posted the other day. However, each tree top was cut out and shaped, as I hope you can see in the shot above. I've attached the tree tops with pop-up glue dots rather than my standard dimensionals so they will retain the rounded shape. Check out a full image of the card and all it's details at the
Elite Challenges blog
.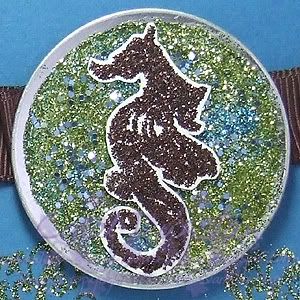 My second card ended up using a lot of glitter, and I even mixed the Chunky Sprinkles with the Fine Supernova. I filled the inside of the aluminium-edged tag with Tombow, sprinkled on some Iris Chunky Sprinkles, a little Celery Chunky Sprinkles, a few areas of Fine Turquoise and then filled the rest with Fine Olive. A little mess but quite effective! The glitter on the seahorse and seaweed (you can just see it in the bottom of the picture above) were attached using Heat & Stick powder. Check out the full card image and details over at the
Elite Challenges blog
.