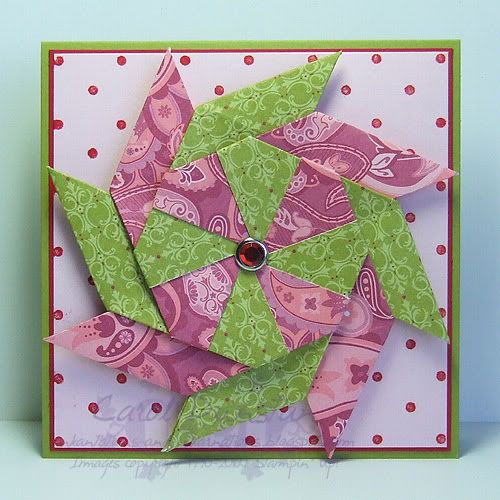 Aka "The Prettiest Frisbee I've Ever Seen" - at least that is what Tiarna exclaimed when she saw it! Then she realised it was attached to a card and thus not so much a functional object
. I've made one of these before in my teabag folding days, so even though the night was getting late and I have been trying to get decent bedtimes since convention, I stayed up and made my pinwheel... then had to think what to do with it! I decided a little square card was the best bet, and with no sentiment on the front it could pass as a Christmas card with it's colouring.
All supplies by Stampin' Up!
Cardstock: Kiwi Kiss, Real Red, Pink Pirouette
Stamp set: Polka Dot
Ink: Real Red
Accessories: Raspberry Tart DSP, Fire Circle Rhinestone brads