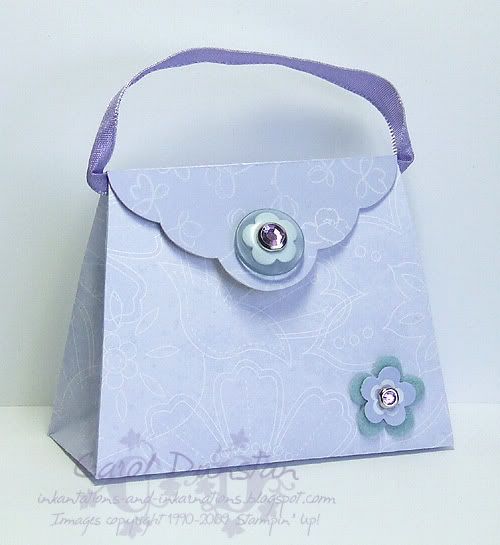 I tell you, this purse is just the cutest thing! Our second challenge at the
Inklings
Cyberstamp was to make one of these purses, using a template from the demo side of the
Stampin' Up!
website. Being late with the challenges as it was I went the simple route and printed the template on DSP so I didn't need to spend a lot more time decorating it. The paper I chose was one of the Almost Amethyst sheets from the Tea Party pack. I knew I wanted to use my favourite colour combination again (Lavender Lace, Almost Amethyst and Baja Breeze), but decided that the other two colours would be accents. Initially I wasn't going to have a second layer on the flap, but I massacred the curved slit for the closure and wanted to cover it up... I also thought it needed to be a bit sturdier with the button and brad on there too. For this second flap I just traced it out on Almost Amethyst cardstock and cut it out, stamped it and stuck it on. To get the rhinestone brad on the flower I simply pushed the prongs through one of the holes in the button. Why I put them both through the one hole I can't recall right now... but I then decided that the prongs would interfere with the purse closure if I put them through the flap, so I trimmed one with wire cutters (otherwise it would have been visible out the side or the button) and simply attached it with a mini glue dot.
The other special feature of the purse is the handle. It is Whisper White taffeta ribbon that I died with my Lavender Lace marker. I have had a little trouble with the colour running a little bit from the ribbon onto the finished card even though it seemed dry, so to play it extremely safe this ribbon has been sitting out for a couple of months to dry - to make absolutely sure!
All supplies by Stampin' Up!
Cardstock: Almost Amethyst
Stamp Set: Embrace Life
Inks: Whisper White
Accessories: Tea Party DSP, Button Bouquet buttons, Ice Circle Rhinestone brads, Flower Fusion II, Trio Flower punch, Planter Box Rub-Ons, Whisper White taffeta ribbon, Lavender Lace marker, mini glue dots