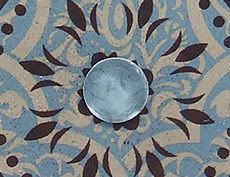 Here's a snippet from another card I did on the weekend for the
Elite Challenges blog
. I'd been working on samples for my Emboss Resist class last week an had really been enjoying myself, so I decided to use it on this card and combine it with DSP. I'm quite happy with how this turned out, with the colours, the patterns, the shapes... To finish the card off I wanted to add a little feature in the middle of the Medallion image and went through a few options before I settled on punching out a circle from another Bella Bleu sheet (and I chose this specific section because it looks like a little bug face to me, heeheehee). I was going to stick it on a Antique Brass Build-A-Brad brad, but the rim of the brad covered up too much of the underlying patter for me, so I just used the adhesive dome instead.
To see the whole card and read all the product details, head over to the
Elite Challenges blog
. If you are interested in finding out more about next weeks emboss resist class (there are still places available), you can
email me
or call 0422 936 139.