I love owls, and I love creating them with punches. While I've really liked the owls I have created, I wanted to be able to make something larger, an owl that would dominate a card front. So I turned to Barry (my Big Shot) and put him to work with the ovals die. I was obviously going to be making some bigger owls, with bigger ovals for the base, but I looked at my punches and tried to think of some other new features I could make with them. And then I noticed a spare wing on my desk, from using the Two-Step Bird punch on another project.
And Dame Edna Owl was born!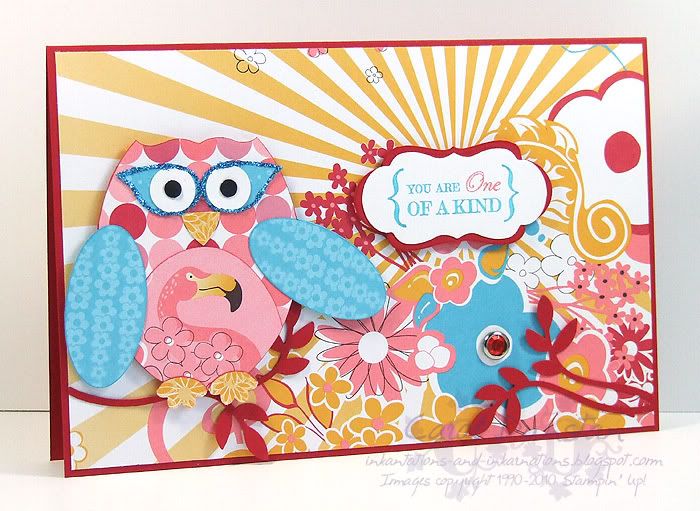 Hello owlies!
Of course I had to use bright colours for the Dame, so I pulled out the Pink Flamingo DSP pack and selected my papers and got Barry to work on them. With the papers all spread out, I spotted the "sun rays" sheet and immediately knew how I wanted the rest of the card to go. When I came to put it together however, I realised that it just wasn't all going to fit on a standard card front. Some years ago I was given a bunch of larger envelopes, and I still have quite a few left (all really bright ones... think Yoyo Yellow). I grabbed one of these envelopes and measure it up and made my card to fit. Now the Dame had space to stretch her wings! And because I
loved the effect so much
, I once again layered the Lots of Tags die on the similar Frames With A Flourish image for the sentiment.
Remember, Pink Flamingo is one of the 5 DSPs on special this week as part of Deals Of The Week. But tonight is your last chance to order it at the special price, so be quick & don't miss out!
All supplies by Stampin' Up!
Cardstock: Real Red, Whisper White
Stamp Sets: Frames With A Flourish, One Of A Kind
Inks: none
Accessories: Pink Flamingo DSP, Ovals die, Lots of Tags die, Two-Step Bird punch, large oval punch, Curly Label punch, Boho Blossoms punch, 3/4" circle punch, 1/2" circle punch, Crop-a-dile, 5 Petal Flower punch, Circle Fire rhinestone brads, Real Red marker, Tempting Turquoise marker, Cameo Coral marker, Tombow mono glue, fine Supernova glitter, dimensionals
Show Watched While Creating: True Blood
(WARNING: there will be season 3 spoilers on this page so careful what you look at or read!)