I've just uploaded three cards to the Elite Challenge blog: a card for the last June challenge and two cards for April challenges. I'll be playing more catch-up over the coming weeks but I promise the next thing I post here will be more than a snipet of something posted in full elsewhere! And hey, today there are three cards... that's gotta count for something, right?
For the April challenges I seem to have combined the stamp set challenge with both the colour challenge and sketch challenge. I always seemed to come back to Nature Walk when mulling over what I'd like to do for each one.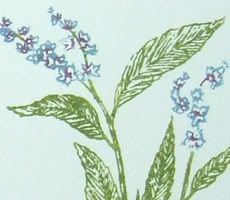 For the colour challenge I went back to one of my favourite techniques of inking with markers.
This card
is pretty straight forward really, Old Olive on the stems and leaves, Marina Mist on the flowers with a dab of Rich Razzleberry in the middle.
You could say
this card
has been years in the making. I'm quite a fan of Tori Amos, and she has a song called
Butterfly
with the lyric "they like you better, framed and dried" that have been kicking around in my head as an idea for a card. With the bevelled windowpanes in the Autumn/Winter mini, I realised now was the time to make it.
And here's the snippet from
my card
for the third June challenge. Next time I'll share with you another use of that number 6 die
As always, head over to the
Elite Challenge blog
to check out the full cards and all their details (and cards from other Elite stampers as well).