You ready for some more Doctor Who papercrafting fun? First, a little background.
This is Doctor Whooves. He was an unnamed background character in the latest version of My Little Pony. That is, until fans noticed his hour-glass cutie mark and spikey brown hair and decided he was The Doctor in pony form (more precisely, the 10th Doctor). Now those involved in making the show even refer to him as Doctor Whooves apparently! Anyway, Shaelea loves horses and Doctor Who so I decided to combine the two for her birthday card.
I came up with a spinner card. Originally I wanted the TARDIS spinning through space, but that made it hard to include the pony. So, after landing the TARDIS, the Doctor has set out for Shaelea's party, and the TARDIS decided it wanted to go too.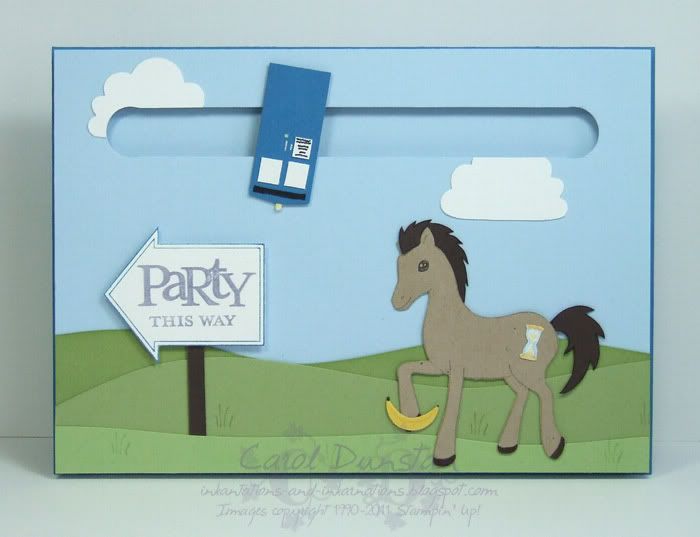 Normally I would use a 5c piece behind the spinning item, however I made the TARDIS too skinny for that and had to resort to a magnet. The magnet was much chunkier so I had to have two layers Dimensionals so the magnet could spin freely. It's a good thing this card isn't going through the post!
The foreground grass is Certainly Celery, with the other two layers being Pear Pizzazz. The back layer is sponged lightly with Pear Pizzazz ink to make it a little darker. Another bit of tweaking on this card is with the sign. The Party this Way stamp actually has the arrow pointing to the right, so I inked the arrow with the Pacific Point marker (contemplating a name change and calling it Pacific Police Box or something
), stamped that then cleaned the stamp, inked the wrods with the Wisteria Wonder marker and used the Stamp-a-ma-jig to line it up and stamp inside the arrow.
The good Doctor was inked using the Crumb Cake marker, so I could omit the mane, and stamped on Crumb Cake cardstock. I drew in the neckline with the fine writing end of the marker then cut him out. I hand cut the mane and tail from Early Espresso cardstock then went around the edges with the fine writing tip of the Early Espresso marker so they too were outlined. The hour-glass was hand drawn on Whisper White cardstock using So Saffron and Bashful Blue markers.
And don't forget: Always take a banana to a party
Most supplies by Stampin' Up!
Cardstock: Pacific Point, Bashful Blue, Certainly Celery, Pear Pizzazz, Whisper White, Crumb Cake, Early Espresso, Daffodil Delight
Stamp sets: Pony Party, Party This Way
Inks: Certainly Celery, Pear Pizzazz
Accessories: 1/2" circle punch, Cupcake Builder punch, dauber, Crumb Cake marker, Early Espresso marker, Pacific Point marker, Wisteria Wonder marker, Basic Black marker, So Saffron marker, Bashful Blue marker, Daffodil Delight marker, cutter kit, silver gel pen, Dimensionals
Show watched while creating: North & South