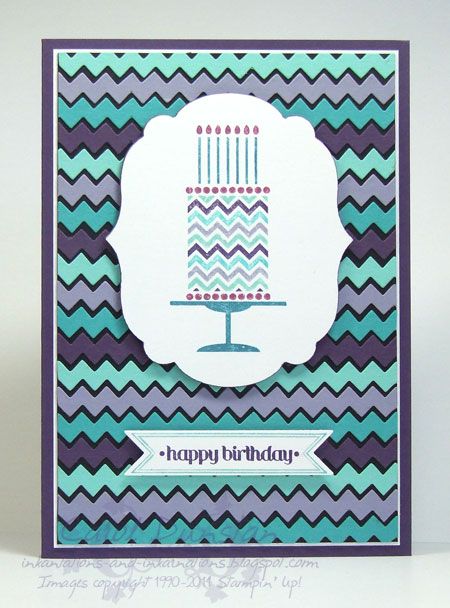 When the Birthday Cake stamp came out last year, I immediately knew how I was going to use it - it was begging to be teamed up with the small chevron from the Tasteful Trims die! It was a lot of work, putting the die through the Big Shot so many times to get enough chevrons for the background, but totally worth it!
Then there was the matter of the Positively Chevron background stamp that also came out last year. It had crossed my mind when I had done the other card, but I had dismissed it as I thought inking it up in multiple colours would be too difficult. But the idea kept playing on my mind, and eventually I decided I just had to give it a go and find out for sure. Turns out while it was time consuming, it did still give a good result if you go over it a few times. My method for something like this is to ink it up and stamp it off on a scrap of paper. This serves two purposes, to see how the colour combination and placement work in actuality, and to get some ink on the stamp so less is taken up by the rubber next time and more should be transfered to the cardstock. When I ink the stamp again, I finish off by putting lots of little dots along the middle of the rubber of each part to create little pools of ink in the middle of the rubber. I do this as the ink tends to be drawn to the edge and this can cause pale patches in solid areas of an image. I then give the stamp a huff so moisture in my breath dampens the whole stamp again.
Die-cut Chevron card
All supplies by Stampin' Up!
Cardstock: Elegant Eggplant, Wisteria Wonder, Pool Party, Bermuda Bay, Whisper White
Stamp sets: Birthday Cake, Itty Bitty Banners
Ink: none
Accessories: Elegant Eggplant marker, Wisteria Wonder marker, Pool Party marker, Bermuda Bay marker, Rich Razzleberry marker, Bitty Banners die, Labels Collection die, Tasteful Trim Bigz XL die, dimensionals
Stamped Chevron card
All supplies by Stampin' Up!
Cardstock: Bermuda Bay, Summer Starfruit, Soft Suede, Whisper White
Stamp sets: Birthday Cake, Positively Chevron, Itty Bitty Banners
Ink: none
Accessories: Bermudy Bay marker, Summer Starfruit marker, Soft Suede marker, Tangerine Tango marker, Bitty Banners die, dimensionals