It was my sisters birthday on Sunday, and she's finally got her card (she's just moved and the card to let her know to pick up a parcel didn't say which PO to go to!), so I can finally share it with you!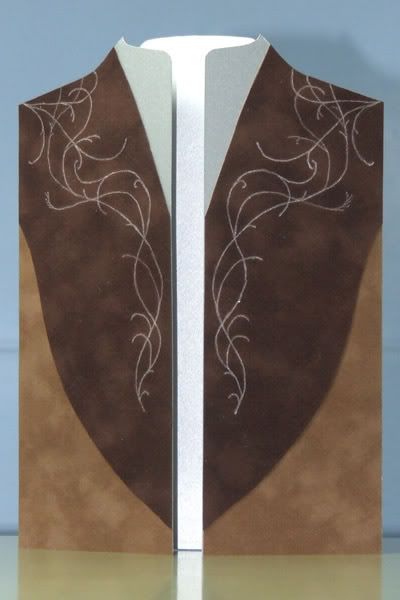 We are both big Lord of the Rings fans (in case you hadn't guessed by my avatar), and I had bought all these jewel toned wrapping papers and ribbons to do up her pressies, so from that had the thought of trying to do something similar to one of Arwen's dresses. But, one day in sorting through my craft stuff I came across some suede paper... and got to thinking... and got to planning. Then I got nervous about it turning out ok, and after wasting a few days just thought "I have to try it, and if it doesn't work, a dress it is!". As you can see above, it worked out pretty good! I printed out a sketch of the jerkin from
Alley Cat Scratch LOTR costuming site
, at the size I wanted to make the card (as big as I could!), and also printed out my version of the decoration on the jerkin (something I started working on and never finalised for them to use... oops). Cut my card, cut the suede, then was once again trying to nut out how to "etch" the design into the suede. In the end, of course, the answer was simple. I layed the print out over the suede and merely traced over it with a ball point pen, which pushed on the suede and left a indented mark, which I then went over with a silver gel pen to finish off the look. Of course, my sister was disappointed that opening the jerkin didn't reveal Legolas' bare chest, but you can't have everything (though she did get heaps of other good stuff).