The other day I thought I may CASE myself and the Simply Said B&W card, using one of the other colours I have in that All My Memories paper, however, when pulling some of the sheets out I found that one sheet perfectly matched this Anna Griffin stripe... my brain started whirring in a completely different direction and this is what I came up with: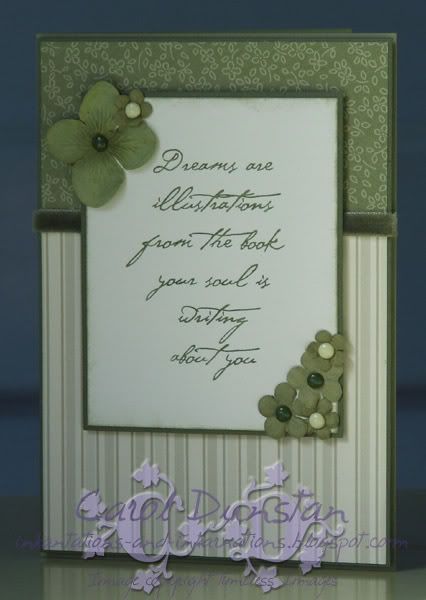 I found these papers were a great match for Mellow Moss and Always Artichoke cardstock and ink, some Primas I had from a swap and some Bazzill brads (Sprout and Ivy). The sentiment is by Timeless Images, and was stamped with Always Artichoke (from marker) on Whisper White, with Mellow Moss sponged around the edge. This was layered on Always Artichoke, raised up on some Magic Mount over the patterned papers and a matching velvet ribbon, and all this was also raised up on more Magic Mount on the Mellow Moss card base.
Expect to see some more of this paper, I got another idea while working on this card (actually, I made two of this with only variation in the flowers) and should have that finished off in the next day or two. I may feel like a complete change after that, or I'll move on to some of the other colours I have... depends on how many ideas I get!
Joanna asked in the comments of my previous post about the VersaMarker I had used. I was really disappointed that it didn't make it into our new SU! catty. I got mine from an eBay store that I don't think is opperating at the moment as the lady was having/has had a baby... I know I haven't seen them around much, but I also haven't been looking since I bought mine!