Another decoration... that expanded! I made the star decoration from a piece of 6x6 Holiday Thyme paper, and as I was cleaning up I noticed 4 triangle shapes that would look pretty good as Christmas trees... So I turned them into four simple Christmas cards:
The pattern on the green side of the paper has True Thyme dots between each of the lighter green sparkles/stars, so I punched a circle through them (unless they were too close to the edge) and put in a Rose Red brad. Yes, it did use a few brads but I think they look pretty nifty!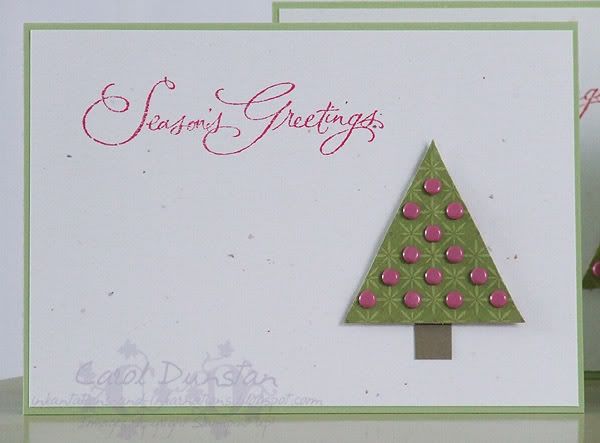 I gave the trees and True Thyme trunk, mounted them on Confetti White cardstock and gave the card sentiment from Many Merry Messages in Rose Red and mounted it all on Certainly Celery.
So before throwing the scraps out, think twice: you may just have some Christmas cards in your hands