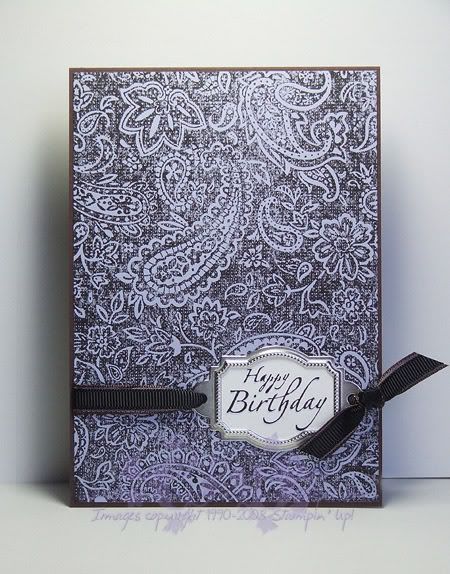 This is my card for the first
Inklings
Cyberstamp challenge.
Lin Mei
kicked off the night with a colour challenge, using some
shoes
as inspiration. My first response used Fine Lace as the background stamp, because on this occasion I was consciously inspired by the photo with it's lacey shoes. I decided that it wasn't really the look I was after, so I remade the card using Paisley for the background... If only those shoes were Paisley I think I'd be hunting them down (although what I would wear them with I have no idea!)! If you click on the image of my card to view it larger you will be able to just make out that the sentiment has been shadowed with Almost Amethyst. Another little trick I used was to SNAIL the two ribbons together so they were easier to control. And I have to say I love using Basic Black when I need a black but don't need to watercolour, much easier to clean (and it smells better too).
All supplies by Stampin' Up!
Cardstock: Chocolate Chip, Almost Amethyst, Whisper White
Stamp sets: Paisley, It's Your Birthday
Inks: Basic Black, Almost Amethyst
Accesories: designer label punch, Styled Silver hodgepodge, Chocolate Chip taffeta ribbon, black grosgrain ribbon