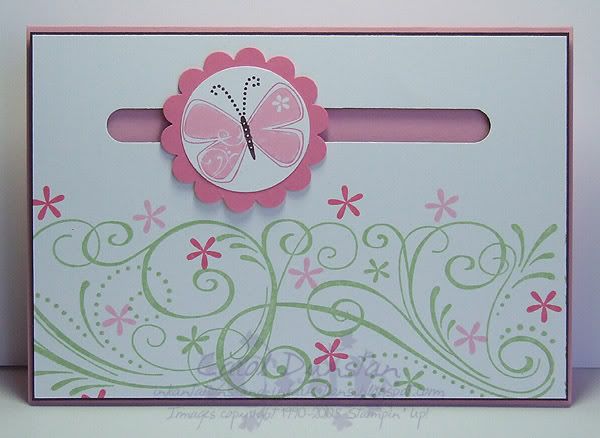 Last night was the September
Inklings
Cyberstamp, this month hosted by
Lin Mei
. This card was for the second challenge, to create a spinner card. Like many of the other Inklings, this is something I have thought of doing for quite some time and never got around to it, so it was great to have it on the "to do" list. I decided to use Priceless and So Swirly together again, and I am so happy with how this card came out I may just use it for Shaelea's birthday card! The colours were supposed to be ones from a Kristina colour challenge that I missed, but once I got creating I forgot that she had specified Very Vanilla and I had used Whisper White... oh well!
The idea with spinner cards is that part of the card spins along a track. Unfortunately, my pictures don't really reflect that... I didn't even attempt taking an "action shot", but I failed to realise that the butterfly was pointing in the same direction after it's bit of a spin!
Almost all supplies by Stampin' Up!
Cardstock: Regal Rose, Chocolate Chip, Whisper White
Stamp Sets: Priceless, So Swirly
Inks: Certainly Celery, Regal Rose, Pretty in Pink
Accessories: Chocolate Chip marker, Regal Rose marker, scallop circle punch, 1 3/8" circle punch, word window punch, dimensionals, 5c coin
Show watched while creating: Aussie women's wheelchair basketball team winning bronze against Japan at the Paralympics