Do you hear that sound?
That's the sound of corner rounders all over Australia breathing a sigh of relief.
Stampin' Up!'s Scallop Edge Punch is here!



Now your poor, over-worked corner rounder can take a well earned rest and just do what it was made to do - round corners. The Scallop Edge Punch is here to make the job of scalloping an edge so much quicker and easier. And as if that wasn't good enough, it has stamps to match!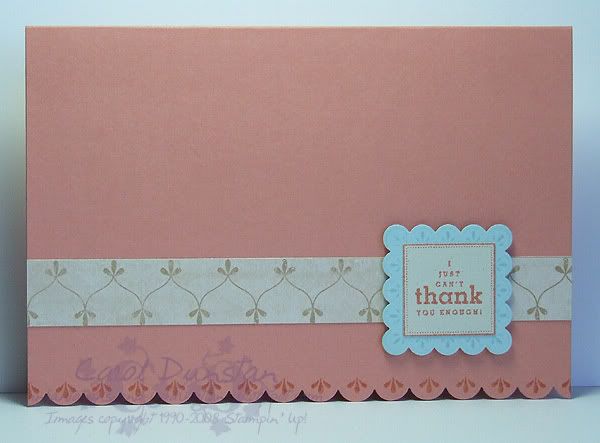 The Summer Mini (which can be viewed online
here
, or
contact me
and I can send you a hard copy (the real-life paper version is always so much nicer to flick through over a cuppa, plus you can stick post-it notes on all the things you like without them covering your monitor)) also sees the introduction of another punch - the Scallop Square Punch. It too has a matching stamp set, how cool is that! This very simple card uses both new punches and matching stamp sets along with a bit of Outlaw paper... and would you look at that, it matches too!
The Summer Mini runs from December 1st to March 31st, but could you really wait another minute to get your hands on those punches and stamp sets?
Contact me
now to place your order.
All supplies by Stampin' Up!
Cardstock: Groovy Guava, Soft Sky, Naturals Ivory
Stamp Sets: All Scallops (coordinates with the Scallop Edge punch), Say It With Scallops (coordinates with the Scallop Square punch)
Inks: Groovy Guava, Soft Sky
Accessories: Scallop Edge punch, Scallop Square punch, Outlaw paper, dimensionals