I mentioned back in late December that I had been working on a calendar for my parents, so I thought I should share a few pages with you. Now, these are the only pages I have scrapped all year, and I have only finished one other 12x12 page before that... in other words, I'm not really a scrapper! But I had a go and was largely happy with what I came up with. I'm pretty sure the first two pages I am sharing were based on sketches, but I am far too tired to go looking that up right now.
I think this was the first time I used the Felt Fusion flowers, they're so fun! I just love the added variety they add, along with the variety of sizes and shapes. I also love white rub-ons.
All supplies by Stampin' Up!
Cardstock: textured Tempting Turquoise, textured Chocolate Chip, Whisper White
Stamp Set: Big Deal, Baroque Motifs
Inks: Pretty In Pink
Accessories: Perfect Day rub-ons, Felt Fusion flowers, Pretties Kit, Fire & Ice circle Rhinestone brads, Spring Bouquet punch, Chocolate Chip marker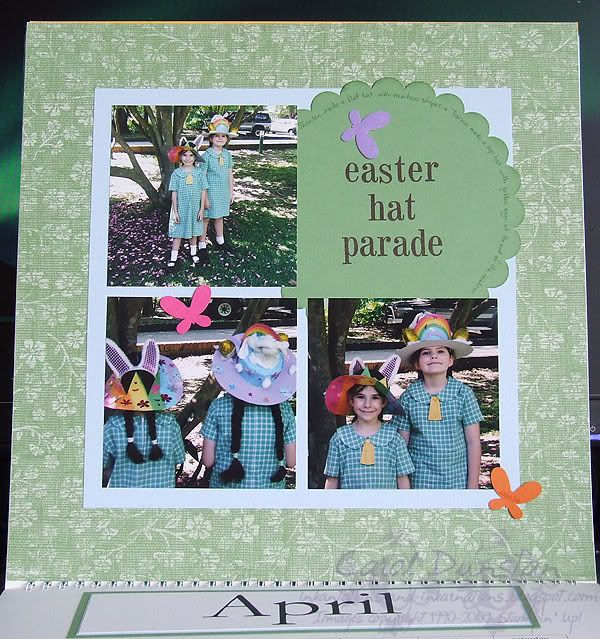 I focused on the Wasabi-coloured grass in the background of the photos... much easier to get things to work with that than the Glorious Green school uniform. I think it helps to make the other colours stand out more too.
All supplies by Stampin Up!
Cardstock: Bashful Blue textured, Lavender Lace, Pink Passion, Pumpkin Pie
Stamp Sets: Typeset Lower Alpha (retired), All Through The Year
Inks: Chocolate Chip, Lavender Lace, Pink Passion, Pumpkin Pie
Accessories: Afternoon Tea DSP, Carousel Notes, mini glue dots, Pumpkin Pie marker, Wild Wasabi "marker" (washed out marker + Wasabi refill)
This page ended up trickier than I thought it would. After doing the film strip for the left side I suddenly found that the alpha stamps I wanted to use wouldn't fit, so I had to resort to printing my title and I was so crunched for time I couldn't do multiple prints to get the colours perfect (although the blue is very close to Tempting Turquoise). After adding the title I had a gapping big hole in the bottom right and very little journalling to do... I was scouring the tree in the photos to get ideas from the decorations there when I spied a little cross-stitched wreath. Luckily I had the Carousel Notes sitting right beside me or I would have spent an age figuring out how to do it! To get the scalloping on the inside of the wreath I traced around a 1 3/8" circle on the back of the cardstock (where I had also marked the center), cut that out (since the punch wouldn't reach that far), removed the guard from the corner rounder punch and the scallops ended up spacing perfectly



All supplies by Stmapin' Up!




Cardstock: Green Galore textured, Pixie Pink, Whisper White, Real Red, Basic Black




Stamp Sets: All Through The Year, Peaceful Wishes




Inks: Glorious Green (I think...), Real Red


Accessories: Siral punch, Carousel Note, 3/16" corner rounder, Real Red striped ribbon, Green Galore marker. Page title printed from computer (non-SU fonts)

What amazes me most about the pages that I have shared with you is the colours... the rest of the pages have a definate pink/purple slant. I'm completely cleaned out of the textured Bold Brights pinks!