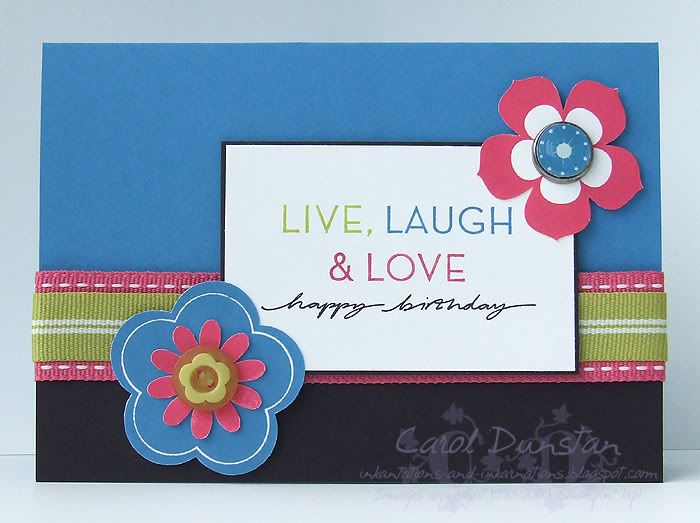 Woohoo! It's been a while since I have had a chance to work on one of
Kristina's colour challenges
straight away, and they were nice strong colours this week. I teamed the colours with last weeks
Weekend Sketch Chellenge
, once again I played a bit footloose and fancy free with the sketch. I know I have said it before, but I use sketches as a starting off point and if the end result doesn't follow the sketch to the pixel so be it, as long as it got me going I am happy. I've used Petal Pizzazz again, I'm really loving the shapes of these flowers (I initially got it as a replacement for Bodacious Bouquet but I'm starting to love it in it's own right). I've also broken out another new set - On Your Birthday, which is another one I bought purely to replace another retiring set (It's Your Birthday). I feel there is a bit more variety in the sayings with this set so I can see I'll probably end up liking it in it's own right too! The other new things on this card are the Kiwi Kiss striped grosgrain, and the Pewter Build-a-brad for the top flower center (insanely easy to use).
And I've finally remembered to upload
my third card
for the Elite blog, another card that uses Petal Pizzazz.
All supplies by Stampin' Up!
Cardstock: Pacific Point, Basic Black, Whisper White
Stamp Sets: Petal Pizzazz, On Your Birthday
Inks: Pacific Point, Rose Red
Accessories: Pacific Point "marker", Kiwi Kiss "marker", Rose Red marker, Basic Black marker, Pewter Build-a-brad, Rose Red double-stitched ribbon, Kiwi Kiss striped ribbon, dimensionals
Show watched while creating:
The Five People You Meet In Heaven