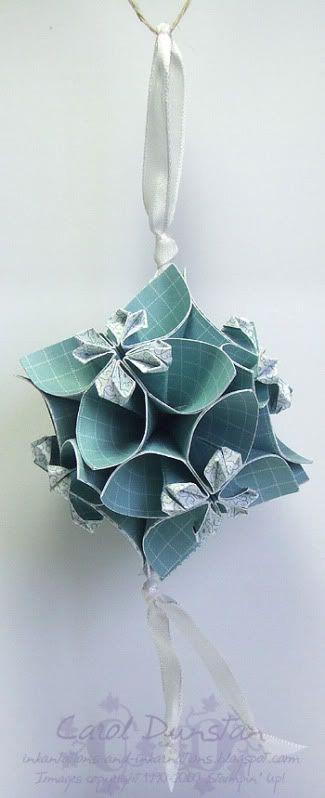 One last convention related post and then I have other things to catch you up on (which shouldn't take as long now that I have everything photographed!). This wasn't technically a swap, but I did make three of these kusudama balls while away and gave them to three people who have all been issued the challenge to make one themselves. Sadly,
Kari
hasn't managed to get further than one petal, and that's since before Christmas! Initially
Karen
and
Keesh
were given a 12 day challenge but since we have all been so busy since convention I've relented and am giving them a bit longer... but don't get too cozy in that reprevie ladies!
This kusudama has been made using 2" squares of paper from the Baja Breeze Patterns paper pack, though the ones I made for convention were made with Pink Pirouette Patterns paper. This is also a different fold to what I posted before, let alone this one only taking 24 squares (as compared to 60 for the other one), it's much quicker to make (I had my first one completely done in 2 1/2 hours).
All supplies by Stampin' Up!
Cardstock: none
Stamps: none
Inks: none
Accessories: Baja Breeze Patterns paper, Tombow Mono Multi adhesive, Whisper White taffeta ribbon
Shows watched while creating:
Bones
,
Fringe