Apologises again for not posting. I had planned to have my blog moved (over to Wordpress) and kept holding off a new post until I had done that, but there are still some things that need working on there. So rather than delay any further, here's something for you to look at.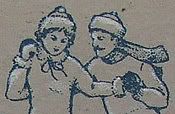 This is a snippet of a card I just uploaded to the
Elite Challenges blog
. I made this card at the start of the month, when it was rather chilly, so the image seemed fitting. We've had good weather for a few weeks now so this card seems a little out of place but I hope you still enjoy it!