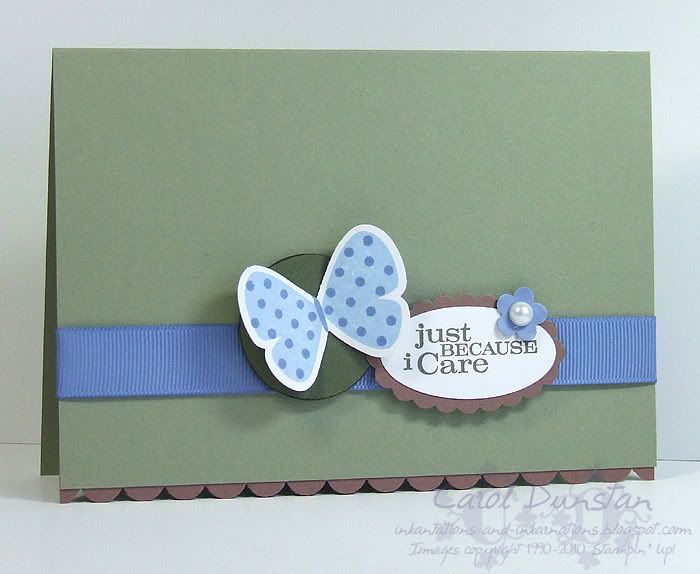 Stampin' Up! recently announced they were renovating their colours, with a complete shake up of how they group colours and what colours they will carry over the next few years. As part of this change they will be introducing 5 new colours as well as making Kraft a new core colour so it will have a coordinating inkpad and many more coordinating accessories (oh I am so cheering for that one!). Another aspect of this change is many current colours will be retiring at the end of our current catalogue. While I am sad to be waving good-bye to some of them, others I am very glad to finally give the boot (Yoyo Yellow & Only Orange you know I am talking about you!).
Why I am I telling you all of this? There are a couple of reasons, but the first is to do with the card you see above. As I was going through things on my desk last week I came across some cards I had taken out of my sample boxes as they featured products that were no longer available. One card in particular I had really liked, so I decided to remake it using current product. To mix it up even more, I decided to use mostly retiring colours. I'm sad to say Mellow Moss, Brocade Blue and Close To Cocoa will all be leaving us at the end of August. This card also features two punches that are part of this weeks Deals Of The Week special offer. You can order both the Scallop Oval and the Trio Flower punches for $20.12 each (normally $30.95 each), but only until Wednesday so you only have one day left to take advantage of this great deal!
Contact me
now to order yours before it is too late.
All supplies by Stampin' Up!
Cardstock:Mellow Moss, Always Artichoke, Close To Cocoa, Whisper White, Brocade Blue
Stamp Sets: Flight Of The Butterfly, Best Yet
Inks: Bashful Blue, Brocade Blue, Always Artichoke
Accessories: 5/8" Brocade Blue grosgrain ribbon, Trio Flower punch, Scallop Oval punch, large oval punch, butterfly punch, 1 3/8" circle punch, scallop edge punch, Pretties Kit, mini glue dots, dimensionals