I've been a slacker again, and it's worse than I thought! I thought I had already blogged the cards you'll see in the next couple of posts. Photos were taken, pictures were editted, but blogging did not proceed!
These cards were made for last Christmas, but it got me to thinking about how quickly this year is flying by... will have to get cracking on some new cards soon, in preparation for this Christmas! The cards featured in this post were somewhat inspired by a card I saw on Facebook. I'd love to credit whoever it was that made that card, but after a good deal of detective work I never did track it down again. By the time I gave up searching, all I could remember of the card was that it was a classy black & gold Christmas card.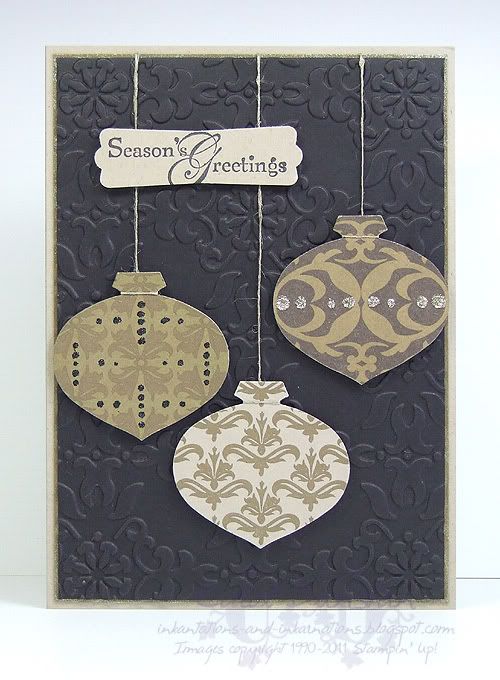 Feeling a bit precious about the fancy papers in the Mocha Morning Specialty pack, I just used them for the bauble features on this card. The background is the Vintage Wallpaer embossing folder for the Big Shot. I accentuated the printed designs on the papers by adding some glitter and shimmer paint, as well as painting the linen thread similar to the
Greenhouse Gala ornament cards
I posted previously.
I then decided it was silly to have this paper and not use it, so I bit the bullet and chopped into one of the flocked papers for this card:
After all of that, I couldn't decided which card I liked better! I like the more neutral background of the first card, but the flocking adds some luxury to the second one. Both cards share a bit of faking too - the layer under the black is Soft Suede edged in gold shimmer paint! Works out much cheaper than using such a large piece of metallic shimmer cardstock, which I feel would be a waste when so little of it would be seen.
All supplies by Stampin' Up!
Cardstock: Crumb Cake, Soft Suede
Stamp set: Snow Swirled
Ink: StazOn
Accessories: Ornament punch, Modern Label punch, Vintage Wallpaper embossing folder (top card only), Mocha Morning Specialty DSP, linen thread, gold shimmer paint, Fine Galaxy Glitter (black and Champagne), blender pen, dimensionals