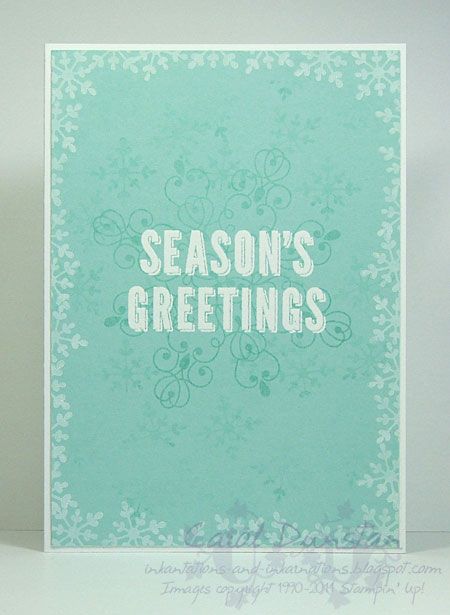 While it is Summer in Australia at Chritsmas time, and for some much of Christmas day is spent in the pool, there are still a lot of people who enjoy wintery Christmas cards. I also have a confession to make: I can be pedantic at times, and often baulk at snowflakes with eight "spokes" because this isn't accurate, snowflakes have six "spokes". That said, I loved the style of the Letterpress Winter and Wintertime sets that I completely didn't notice the snowflakes in this set indeed have eight spokes until I sat down to use the set! So, moving right along...
So for this card I wanted a cool and fresh look, minimalist in colours. To create some interest in what might otherwise have been a plain card I played with intensity of colour. The large snowflake was stamped in Pool Party ink, as were the smaller ones around it, but for the smaller ones I "stamped off" on scrap paper before stamping on my cardstock. This way what goes on the cardstock isn't the normal, full load of ink and you get a softer image. Over the top of this I embossed the sentiment in white, and around the edge I stamped the small snowflake again though this time using the Whisper White craft ink. My Whisper White ink pad could use some reinking, but I didn't want the outside snowflakes to compete for attention with the stark white sentiment in the middle so just used it as is to get a softer look for these snowflakes too.
All supplies by Stampin' Up!
Cardstock: Pool Party
, Whisper White
Stamp set: Letterpress Winter
Ink: Pool Party, VersaMark, Whisper White
Accessories: white embossing powder
Shows watched while creating: Bones, Hawaii Five-0