I've been quite this week as I have been busy creating, finishing up one thing and launching straight into another before I forget what I have pictured in my head as the finished item. Indeed, one was something I had thought of when I saw it in the catalogue and had started on, before being intrupted and forgetting about it. Until this week when I saw someone do a similar thing, and I was then determined to finish it off.
When seeing the Butterfly thinlits in the Occasions catalogue, my mind went back to the
Lace Ribbon
cards I had done in the past. However, when my order arrived I didn't launch into it immediately as I knew it would be time consuming and I had so many other new things to play with and ideas to do. Eventually I did start, I cut about 3 of the butterflies I needed before the family demanded to be fed and papercraft had to be put aside, then packed up for the night. The preparation really is the most time consuming thing about this: because I wanted the fully rainbow of colours from the Brights collection that was 10 butterflies there. Then the black to put the pieces in, and then to cut it out of the white layer. Then cleaning all the pieces up (removing the little bits that hang on the edge). But I got there!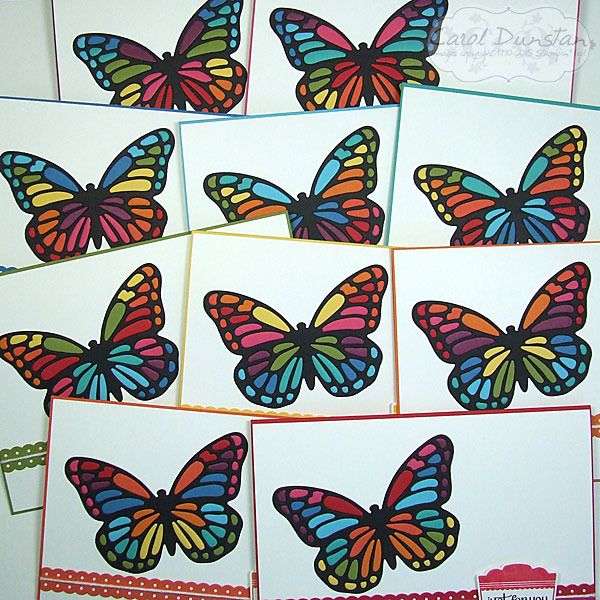 Yep, I made 10 cards! I figured rather than make just the one card with a rainbow butterfly and have all those other little pieces laying around if I made 10, rotating the position of the colours, then that would fix that problem. Of course I do now have the little bits from 10 black butterflies and 10 white butterflies... but I think that's a little more flexible to work with than just the odd pieces in certain colours. I also used the Label Love set & matching Artisan Label punch that are on special this week in the
Weekly Deals
.