Hello again! With Christmas just days away, I have one last Delicate Ornaments card to share with you.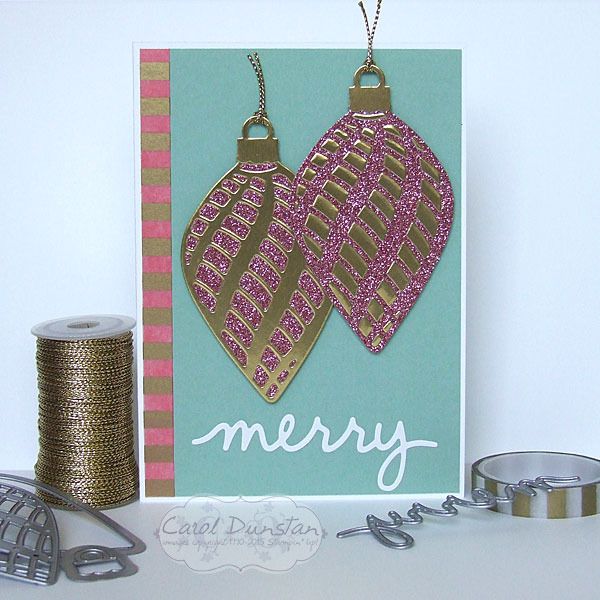 This card came into being rather differently to my usual process. I had originally cut the gold ornaments for the
Colourful Delicate Ornaments
, but when I changed tack with those ornaments the gold ornaments were left sitting around unused. Do you see the glimmer paper I have used on this card? It's another sneak peek from the up-coming Occasions catalogue. I had thought I might use the gold ornaments with silver or Dazzling Diamonds glimmer paper ones, but as soon as I saw the Blushing Bride glimmer paper I knew the fate of the gold ornaments was sealed! While making this card I paid more attention to the clock, for those who have been curious about how long it takes to make these ornaments. For these particular ornaments they took about 10 minutes each, though as I have said before these are the simplest of the three so the other styles would take a little longer.
The other interesting part of this card is the strip down the right hand side. I was working to include some plain Blushing Bride cardstock to coordinate with the Blushing Bride glimmer paper, and I wanted to work ina little more gold. The Winter Wonderland washi tape (on the Holiday catalogue retiring list, less than two weeks left to order it) over Blushing Bride cardstock only let a tinge of colour show through, so I went with Watermelon Wonder cardstock instead. The washi tape over Watermelon Wonder is a few shades darker than Blushing Bride, but the pop of colour works in well.
The colours for todays card: