I have a 4 year old boys birthday on the weekend, so I made an effort to get his card done today instead of the last minute.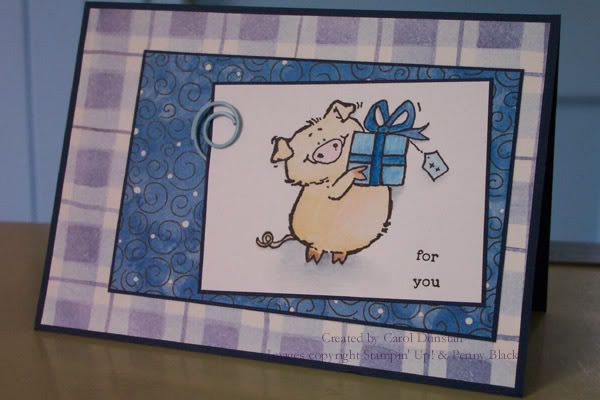 I decided to go back to some old toys for a change, so pulled out this Penny Black piggy (I like pigs if you hadn't already guessed. OK, not the full grown real ones so much, but cute toy or drawn ones) and my watercolour pencils. I usually colour the image with the pencils and then go over it with a water pen, but this time I touched up some areas by taking colour directly from the pencil with the pen. This does of course mean you won't get directional marks from how you have coloured in (which I need to brush up on), think I will have to try colouring a whole image this way to really compare the techniques. The 'for' and 'you' are from Stampin' Up!s "Everyday Flexible Phrases" set, for the 'you' I used the 'your' stamp and only inked up the letters I needed. I stamped in VersaFine Onyx Black on Nopa cardstock, the circle clip is Francheville, the plaid paper is by EK success and the swirly paper is by Scrap-Ease. The pig and swirl paper are layered on Admiral Bazzill, the base card is an unknown brand.
Somewhat ironically the swirl paper is called "Midnight Snowfall". We've actually had snow not too far away. Snow, in Australia, in November, is very rare. I'm almost tempted to make some snowy Christmas cards!