As part of a CyberStamp at the
Angela Sargeant's forum
we were challenged to make a Valentine's Day card for someone other than our significant other. So I decided to make ones for my girls and go ultra cute.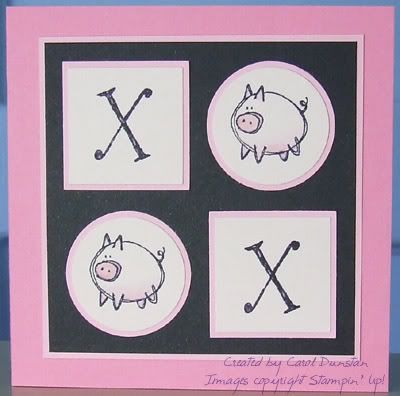 Images stamped in Basic Black ink on Blush Blossom cardstock, layered on Pretty in Pink (1 1/4" and 1 3/8" punches in circle and square used), layered on Basic Black cardstock, layered on Pretty in Pink cardstock, mounted on Regal Rose main card. Size is 10.5 x 10.5cm. I've seen a few cards done using this piggie and the X, though I don't think anyone had used more than one pig, and I wanted to write "Hogs and kisses" inside, so I needed more than one ;-) As I had stamped the piggies on Blush Blossom cardstock they didn't need much colouring, I just added a touch of Pretty in Pink and Regal Rose to the snout and underbelly using watercolour crayon and blender pen (which I also used to fill in the "gaps" on the X's).

All materials from Stampin' Up!