Friday 9th was a cybercrop at
The Littlest Scrapbook Shop
, but it took me until the weekend after to get any of the challenges done.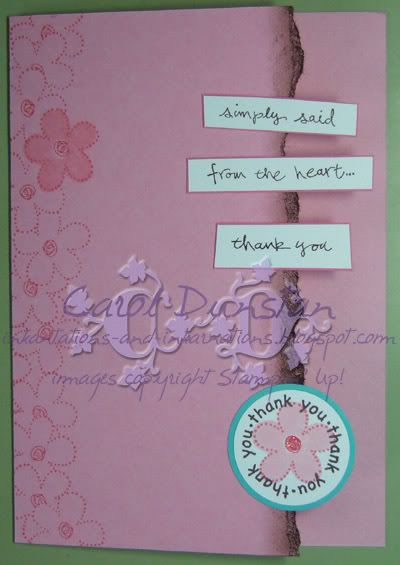 This card was in response to the card sketch for challenge 1. I wasn't big on pink for a long time, but I always find myself using it in cards (and now I have two daughters, one who is about as pink as you can be!). I've seen quite a few cards using this colour combination and have been dying to try it out myself. The card base is a piece of pale pink Prisma cardstock on which I stamped and masked two flowers from the "Simply Said" set (from last years Spring Mini) in Pretty in Pink and Regal Rose. I tore off the right edge of the card front, sponged some Chocolate Chip ink along this edge. I inked one of the sentiments from "Simply Said" with the Chocolate Chip marker, doing one line at a time and leaving lots of space between them on my scrap piece of Whisper White. I cut them out by hand and then went to mount them on the cardfront, over hanging the edge. Well, I hadn't been completely paying attention when I had started stamping the sentiment and had originally done it in Bais Black... when I realised my mistake I did as I always do and just flipped the piece of cardstock over. However, when I had cut out my pieces of Chocolate Chip sentiment some of the Basic Black was on the back! So I had to mount them onto another layer and chose a scrap of dark pink that was a good match for the Regal Rose. I stamped the circular "thank you" from the Seeing Spots set (more about that in a minute) in Chocolate Chip on Whisper White, then used the Stamp-a-majig to stamp the "Simply Said" flowers in the centre. I punched this out with the 1 1/4" circle punch and layered it on a 1 3/8" circle of scrap aqua cardstock, then mounted this on the cardfront. To finish it all off I added some pink
Kindy Glitz
to the centre of the flower.
The "Seeing Spots" set was a gift all demonstrators in Australia recieved from Stampin' Up! in January. The set will be in the 2007-2008 Idea Book and Catalogue, which will be released on April 2. I can't wait to see the new catty and all the fabulous new goodies we can get. Don't forget though you only have a short time left to order anything of the retiring list - some products are already sold out! See this post for more details ->
So Long and Thanks for all the Fun