I recently made up a bunch of these thank you cards: I worked out my basic design and colours before I started... but half way through realised something wasn't quite right. Oops, I had grabbed Close To Cocoa instead of Chocolate Chip (serves me right for not putting them away properly)! I finished off the cards I had started using Close To Cocoa and nearly made them all that way... but decided to satisfy my curiosity and make the rest using Chocolate Chip just to be able to compare them and see the difference.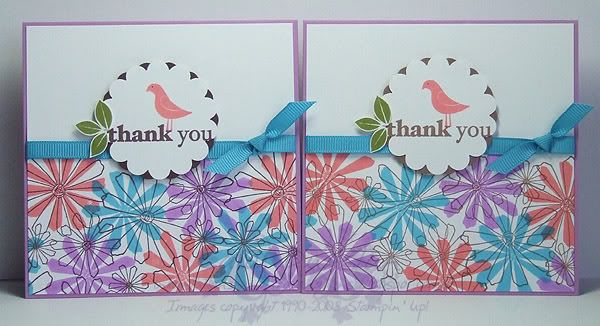 Now to me there is nothing wrong with the Close To Cocoa ones, but I do prefer the extra pop and definition the Chocolate Chip provides. What do you think?
All supplies by Stampin' Up!
Cardstock: Orchid Opulence, Whisper White, Close To Cocoa, Chocolate Chip
Stamp set: Spring Solitude
Inks: Orchid Opulence, Tempting Turquoise, Cameo Coral, Close To Cocoa, Chocolate Chip, Old Olive
Accessories: Scallop Circle Punch, Tempting Turquoise 1/4" grosgrain ribbon, dimensionals