With the Simply Sent kits on special this week, I thought I'd kick off my 7 Loves with Design. Each kit comes with instructions for making two different designs, however you don't have to stick to these designs if you don't want to! There are even a few extra pieces so you can alter the designs quite a bit, mixing and matching as you like. Yesterday I sat down with the kit, made two cards following the instructions, then made another 8 cards by tweaking the designs to varying degrees.
My Simply Sent kit of choice was Simple Delights. If you're a long-time reader of my blog you have probably seen me use this set on a
number of occasions
, I even posted a card with it
yesterday
! I love the style of the images in this set so had to have it as soon as the catalogue came out. While I have enjoyed doing my own thing with the stamps, it was fun to work from the designs that come with the kit and not have to think so much for myself. Here are the two cards that follow the instructions provided: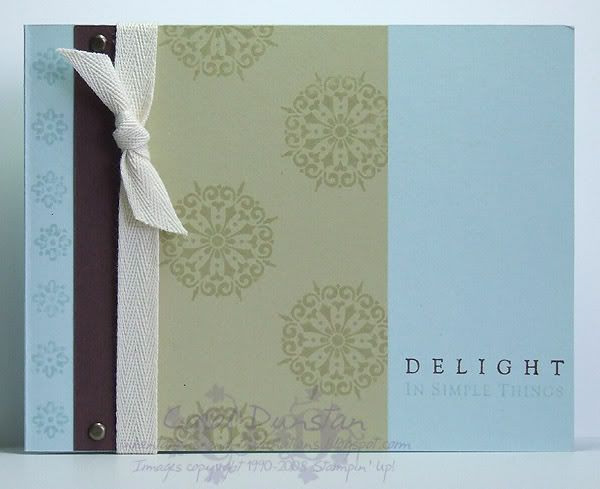 For my next two cards I swithed some of the supplies, eg River Rock cardstock was substituted with Soft Sky cardstock. Some of these changes required some minor modification to the design but it was all still pretty straight-forward.
For these next two cards I started by "flipping the sketch". Flipping the layout of a card is one of my favourite ways to mix things up a bit but keep the thinking to a minimum to speed the process up. I also changed what stamps were used and where and even added a piece of cardstock to one card. Again, simple changes, but the end results look quite different.
On these next two cards I changed the direction of the layers, instead of fitting neatly across the width of the card base I positioned them vertically. These two are probably the ones that are most different to the original designs.
For the last two cards I used the same basic layout for both cards as well as using some of the spare supplies - and after this there were still bits and pieces left over!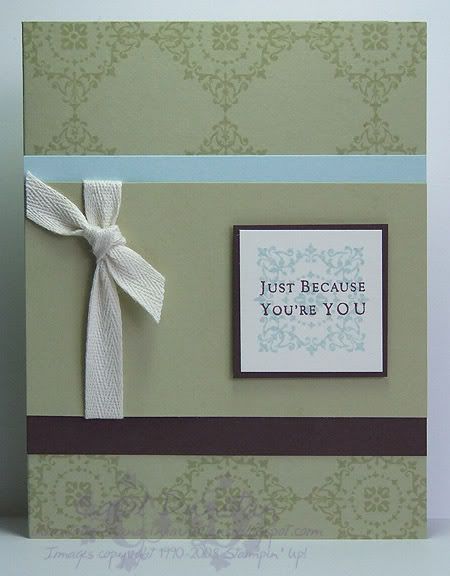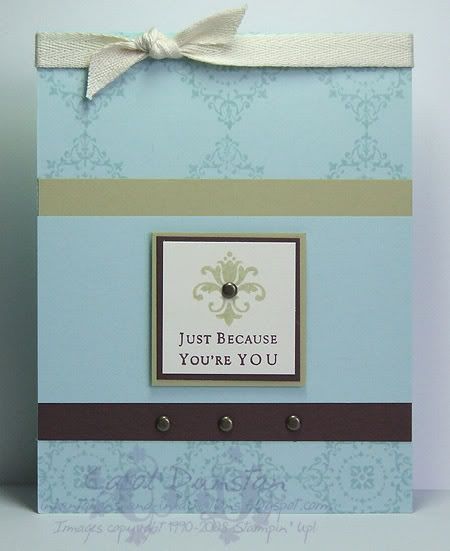 Of course, using up the supplies is not the end for your kit. Here are some cards I made using the instructions from the kit but my own cardstock and accessories: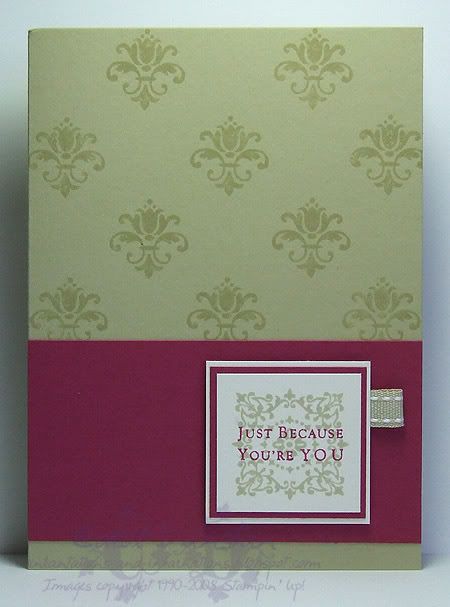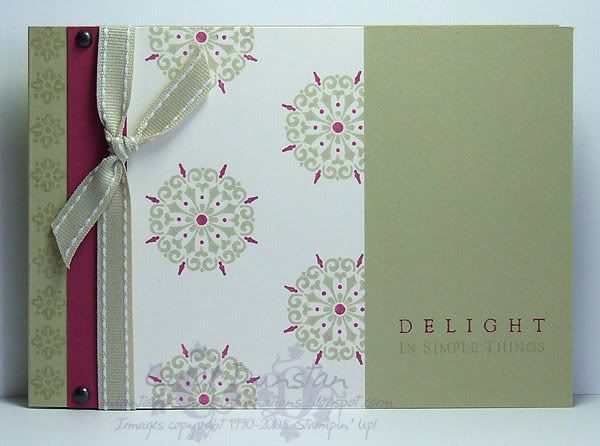 ~Phew~ Is that enough images for you? I hope I've been able to give you a few more ideas on how to use a Simply Sent kit... but now it's time for me to give something tangible away. Since this is World Card Making day we'll make this one nice and easy. Todays prize is 50cm of twill tape and 20 Antique Brass brads like those that come in the Simple Delights Simply Sent kit. As an added bonus I will also include 50cm of the other two widths of twill tape AND 50cm of River Rock double-stitch ribbon, Soft Sky double-stitched ribbon and Chocolate Chip satin ribbon. To win this bounty simply be the first one to email me and the pack is yours! This offer is only available to Australian residents that are not SU! demos.