This card, yet another for
Cinema Saturday #14
, is inspired by the outfit Arwen wears as she races the sick Frodo to Rivendell while being chased by the Ring Wraiths. Book readers will know that this part was taken from Glorfindel and given to Arwen, but I can forgive PJ because he did need to make sacrifices to condense the story (heck, if Tom Bombadill can't make it into the movie I don't think Glorfindel can complain!) and if it wasn't Arwen in this scene we would have missed out on this fantastic costume
. Basically the outfit is a light grey suede with creamy metallic crinkle inner sleeves, dark grey/plum trims, silver butterfly belt "buckle" and plum leggins. The sleeves of the dress have a fine swirly pattern that was probably painted on, so I chose to make that my feature but used a stamp instead of copying the
design
to cardstock. The Basic Gray ribbon and crinkled Vanilla ribbon are to represent the sashes and inner sleeves and the butterfly is to represent her belt buckle (once again I chose not to copy the exact
design
because you don't always have to go for obsessive detail! Shocking, but true
).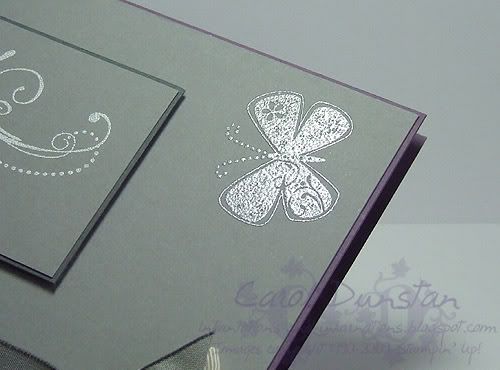 The butterfly was stamped with silver ink and then embossed with clear embossing powder to give a more subtle look. Nearly all of Arwen's outfits had some sort of link to butterflies and/or dragonflies so it is no wonder I am drawn to them since I love those bugs so much
.
All supplies by Stampin' Up!
Cardstock: Perfect Plum, Going Gray, Basic Gray
Stamp Set: Priceless
Ink: VersaMark
Accessories: white embossing powder, clear embossing powder, Bsic Gray taffeta ribbon, Beachfront Ribbon Originals, dimensionals
Show watched while creating: Can you guess? Fellowship of course!