Happy St. Patricks Day!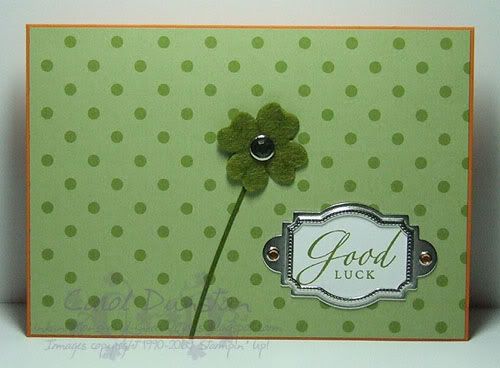 I really should have had this post scheduled, but thought I'd have time to do that yesterday morning. But my day was completely thrown out of whack with news that the 09/10 SU catty was starting to arrive on demonstrator doorsteps, and things like this fell by the way-side. Hey, I did get the sheets washed, so the day wasn't a compelte write-off! Anyway, this card was made for our March Inklings cyberstamp but I held off sharing until the day (well, it'd just still St Pats in Ireland wouldn't it???). Very simple, but I like it. The clover is actually a trimmed Flower Fusion flower.
And yes, my own pre-ordered catties arrived
All supplies by Stampin' Up!
Cardstock: Pumpkin Pie, Whisper White
Stamp Set: Sincere Salutations, Bodacious Bouquet (clover stem)
Inks: Old Olive
Accessories: Flower Fusion, Certainly Celery Prints DSP, Styled Silver Hodgepodge, Ice Circle Rhinestone Brads