Are you ready for more Twilight swaps? Anyone would think I'd gone to a Twilight convention!
Above you can see my "Team Edward" card, for the fans of Edward. I've used All In The Family to make Edward and Bella all ready for the prom... but I had to toss the apple in there too! Normally I'm not a fan of colouring on Whisper White with markers, but it worked so well on my practise piece that I just went ahead and did it for the rest. I used Baja Breeze for Edwards shirt and Pacific Point for Bella's dress (don't forget, you can read about how to make an In Color marker
here
). Of course, since the Twilight vampires sparkle in the sun, I had to give Edward's face a coating of Dazzling Diamonds.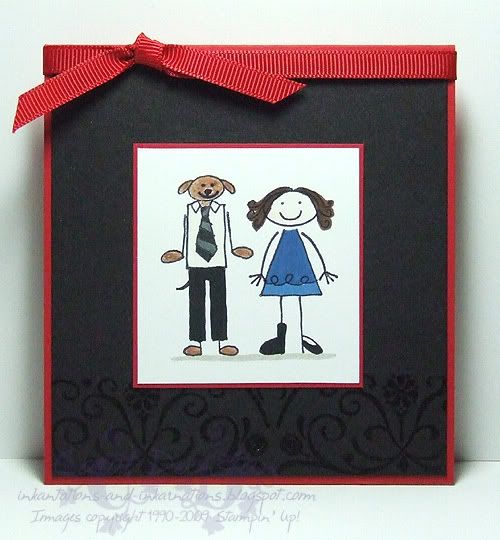 This is my "Team Jacob" card, for those Jacob fans out there. It is mentioned in the book and movie that the legend of his tribe is that they are decended from wolves, and I was all set to use the long-haired head for Jacob, but as soon as I got the idea of using the dogs head I couldn't stop giggling and had to go with it! I then realised I had to give him paws instead of hands, so I individually inked the legs from one of the legs stamps and used those. Inking the head was rather tricky, which is why I later went over the eyes, nose and mouth with a marker. You can thank Tiarna for giving me the idea to give Jacob a tail (which was supposed to be stamped but I forgot to do it before he was all coloured in and didn't want to stuff it up then, so just drew it in).
And did you notice? I used
Bella's
Border on them! I've thought for a long time that if I ever did make a Twilight inspired card I would have to use that on it, due to the name. I used this on the sketch card too, which I will share with you later (have to photograph it first).
All supplies by Stampin' Up!
Cardstock: Real Red, Basic Black, Whisper White
Stamp Set: All In The Family, Bella's Border
Inks: VersaMark, StazOn Jet Black; Blush Blossom (for water colouring)
Accessories: Aquapainter, Basic Black marker, Chocolate Chip marker, Sahara Sand marker, Pacific Point "marker", Really Rust marker, Baja Breeze "marker", Crop-a-dile (for apple), Real Red 1/4" grosgrain ribbon, 2-way glue pen, Dazzling Diamonds glitter, Basic Gray marker, Really Rust and Close To Cocoa Watercolor Wonder Crayons
Show watched while creating:
Twilight