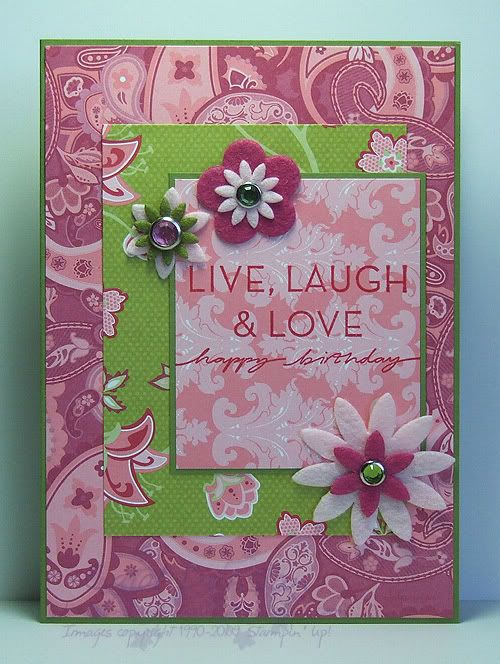 When
Lin Mei
posted her first challenge for the Inklings cyberstamp, I also thought of this card which I had also made a few weeks ago but hadn't posted yet. Once again I decided that I could easily whip up another version of it with different paper, as well as finish sticking together one that was a UFO (Un-Finished Object). The card was inspired by
this card
by Amy, which was made ages ago but has stuck in my head as a great use of patterned paper.
All supplies by Stampin' Up!
Cardstock: Kiwi Kiss
Stamp Set: On Your Birthday
Inks: Real Red
Accessories: Raspberry Tart DSP, Flower Fusion, Flower Fusion Too, Circle Ice Rhinestone brads, Circle Fire rhinestone brads
I had made most of this one at the same time that I had made the Raspberry Tart one, but I didn't finish it straight away as I was waiting for my died Pretties flowers to dry. I colour my flowers using the markers, mainly because it's the cleanest way to colour them (not that I am against inky fingers). Even though using the markers doesn't get them as wet as some other colouring methods, with darker colours I have found it prudent to give them a long time to dry, and then a bit longer just to make sure, other wise you'll return to your project some time later and find the ink has bled into the cardstock underneath.
All supplies by Stampin' Up!
Cardstock: Not Quite Navy
Stamp Set: Thoughts & Prayers
Inks: Not Quite Navy
Accessories: Bella Bleu DSP, Pretties Kit, Flower Fusion Too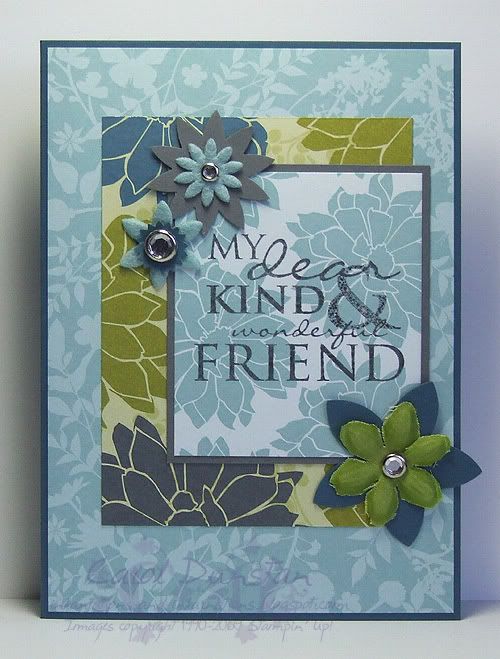 And finally, this one was completely made on the night. I am so loving the Urban Garden paper! The Basic Gray and Not Quite Navy flowers near the top were created by double punching cardstock: punch the shape once, then put the punched out shape back into the punch but rotated so it will be punched in a different place and create a brand new shape. The easiest way to do this is to attach a scrap of paper (using temporary adhesive like Dotto) to the punch so you have something to hold on to and you can position the shape much more easily. I coloured the Pretties flower on this one with my Kiwi Kiss marker, however because it was being layered on top of a darker colour I didn't worry about making sure it was dry first since any bleeding is unlikely to show.
All supplies by Stampin' Up!
Cardstock: Not Quite Navy, Basic Gray
Stamp Set: Occasional Greetings
Inks: Basic Gray
Accessories: Pretties kit, Felt Fusion Too, Clear Rhinestone brads, 5-petal flower punch, Boho Blossoms punch