This weeks
Cinema Saturday
movie was Beauty and the Beast, with the required element being a fairytale theme. Initially I was at a loss as to what to do for this movie, we don't have it on disc so I wouldn't be able to watch it again to get inspiration. But then I saw
Jaimee's card
and it reminded me of something I had been meaning to try for ages. I had bought a kids "things to make and do" book with the intention of giving it as a present, but also thought there were some good ideas for my cardmaking in it. This was one of them... so book recipient, please over-look that it is now slightly second hand!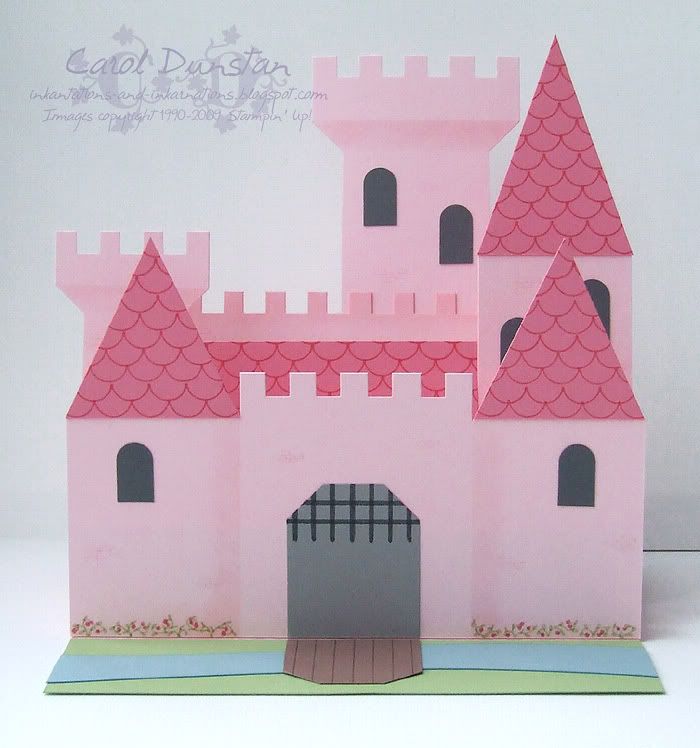 I'm pretty ecstatic about how this came out! I had intended it to fit in a large square envelope, but now that I have finished it I am not sure it will... I haven't tested it out yet. It does fold up flat for postage, but I wanted it big so I could get some details in.
Here's a side view so you can see the concertina-style base that all the elements are stuck to. The scoring wasn't as precise as I had intended, so I have had to prop the back up a bit for photos, but I've already figured out a tweak so that the card won't need propping up, and the elements will sit pretty straight (rather than all tilt back).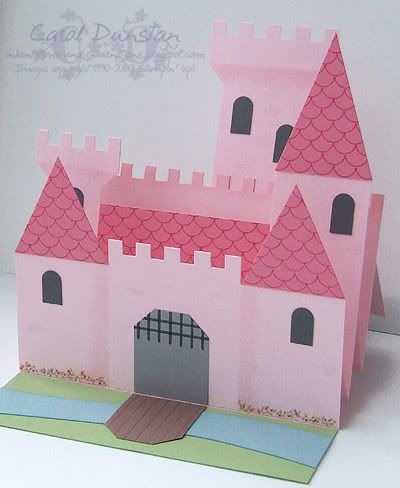 And now a shot from the right. The Baja Breeze moat was cut using the cutting tool of the Cutter Kit. The edges were sponged with Baja Breeze ink. The drawbridge and entrance are large Tag punches with details drawn on with marker.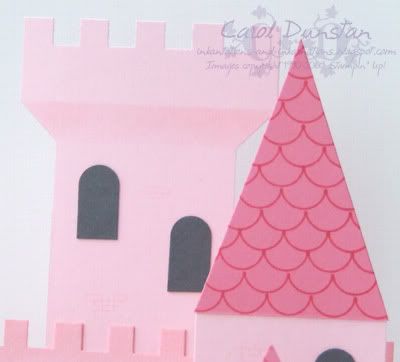 Above you can see some of the details on the towers. The shingles are stamped - the only stamping on this card! Windows are, appropriately enough, done with the Word Window punch. I've drawn on random bricks with my Pink Pirouette marker. This is the main thing I would change with the card - I had intended on using textured cardstock but completely forgot to pull it out. I realised my mistake only after everything was cut, so thought this solution would be the best alternative. I think the textured cardstock would give enough of a texture to make do for brick work. Oh well! The notches were cut out with the now retired 1/4" square punch - made the job so easy! The Spiral punch would probably also work really well, especially on something of a smaller scale. I also did some masking and sponging to help add some apparent dimension. The tower in the background has been shaped with a tag punch.
Along the front of the castle wall I drew some vine-type things with little Regal Rose dots for flowers. This is probably verging on more of a Sleeping Beauty card than Beauty and the Beast, but I wanted to work in some sort of rose. You can also see a bit more masking, sponging and hand-drawn bricks down here too.
All supplies by Stampin' Up!
Cardstock: Pink Pirouette, Certainly Celery, Baja Breeze, Close To Cocoa, Going Gray, Basic Gray, Regal Rose
Stamp Set: All Scallops
Ink: Regal Rose; Pink Pirouette and Baja Breeze for sponging
Accessories: Certiainly Celery marker, Regal Rose marker, Close To Cocoa marker, Basic Gray marker, Pink Pirouette "marker", sponge dauber, Word Window punch, small tag punch, large tag punch, 1/4" square punch, Cutter Kit