Yesterday was Shaelea's birthday, so for the last few days I have been working on her card, another castle one - this one being based on the castle in the latest Barbie movie (though I made this pinker for Shaelea). I took quite a few liberties with the back row, there was just so many darn turrets and little things I simplified that a lot but it's still quite effective.
Construction was much the same as
Hogwarts
, using textured cardstock and making one side of the concertina fold longer than the other to push the castle more upright. One thing I did differently for this one compared to the previous two (the other being the
Beauty and the Beast
castle) was to use the double rectangle punch for the battlements and to punch windows into the castle walls and cover them from behind... trying to attach all those fiddly little windows so they are straight is tricky! I did the Beauty and the Beast roses along the outside castle wall because I couldn't think of an easy way to do the fountains.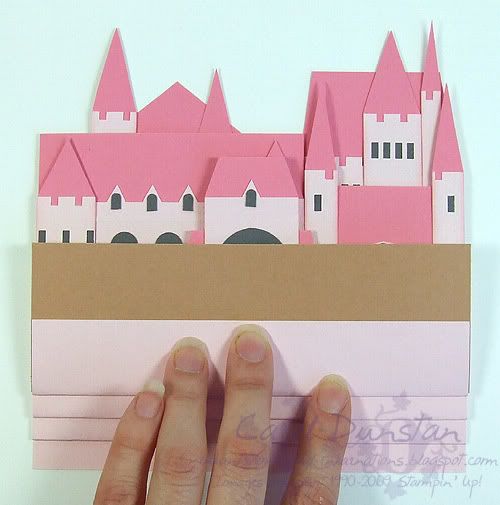 Here is the card folded up so you can see how the concertina folds stager. This one also fits in a 15cm square envelope.
All supplies by Stampin' Up!
Cardstock: textured Pink Pirouette, textured Regal Rose, Basic Gray, Certainly Celery, Creamy Caramel
Stamps: none
Inks: Pink Pirouette, Certainly Celery
Accessories: 1" circle punch, Word Window punch, horizontal slot punch, double rectangle punch, cutter kit, daubers, Certainly Celery marker, Regal Rose marker.