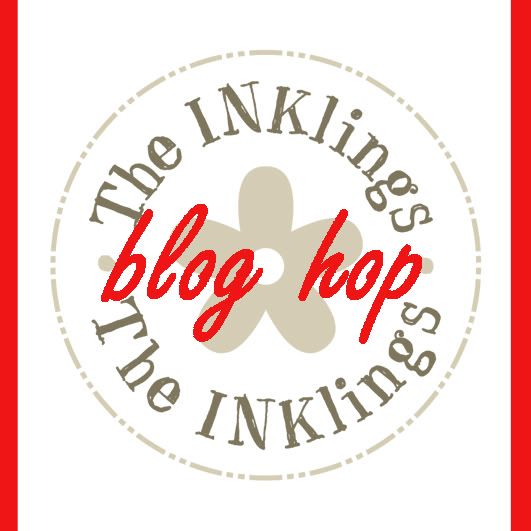 Welcome to The INKlings' Team's Christmas in July blog hop. You may have arrived here from
Dani's
blog or just be visiting my blog, whichever way once you've checked out my creations you can continue the hop through the links at the end of this post to the next team member.
How quick is this year going! Have you started to think about your Christmas cards and projects yet? The INKlings team has and we thought that this month was the perfect time to host a Christmas in July blog hop. You'll find lots of great ideas provided by 17 team members' fantastic blogs.
Want to win some Blog Candy? Simply leave a comment on each blog and then email
Christie Wallace
and let her know you've done so and you'll be in the running for a fantastic prize of 17 handmade cards plus other goodies.
Sorry Blog Candy prize not available to SU! demonstrators but you're more than welcome to leave us a comment!
For my Christmas in July project I thought I would show you a Christmas card made using a non-Christmas set. Not surprisingly it's not a traditionally styled Christmas card, but it works!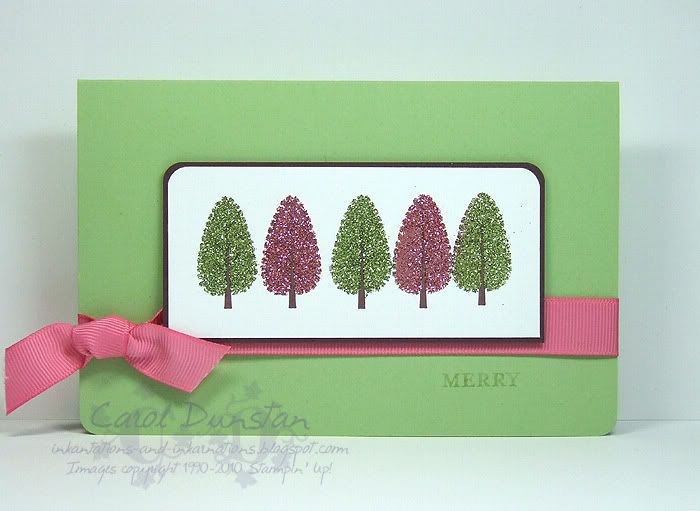 I have used the Trendy Trees set in conjunction with Heat & Stick powder and the Supernova glitter to make this fun and funky card. I started by stamping the tree trunks, and then each tree top was done individually. The tree top is first stamped with VersaMark then sprinkled with Heat & Stick powder, and the excess powder tipped off before heating with a heat gun - just like embossing powder. When the Heat & Stick powder has just melted it will be tacky, so turn off the heat gun and cover the image with the glitter of your choice, once again tipping off the excess (and it can be returned to the container). Reheat the Heat & Stick with the heat gun and the glitter will set, and very little glitter will then come off to haunt you, or the card recipient, for the rest of your days...
All supplies by Stampin' Up!
Cardstock: Certainly Celery, Chocolate Chip, Whisper White
Stamp Sets: Trendy Trees, Punches Three
Inks:Certainly Celery, Chocolate Chip, VersaMark
Accessories: Heat & Stick powder, Fine Supernova glitter, 3/16" corner rounder, Regal Rose 5/6" grosgrain
That's it from me. Your next stop on the INKlings' Team Blog Hop is
Michelle
. Have fun and don't forget to leave a comment on each blog to win some great Blog Candy.
Bloghop for Christmas in July
1.
Christie
2.
Dani H
3. Carol
4.
Michelle D
5.
Jayne
6.
Kylie
7.
Kari
8.
Dani F
9.
Beth
10.
Nicky A
11.
Clare
12.
Amy
13.
Fiona B.
14.
Michelle F-S
15.
Fiona
16.
Divya
17.
Rachel