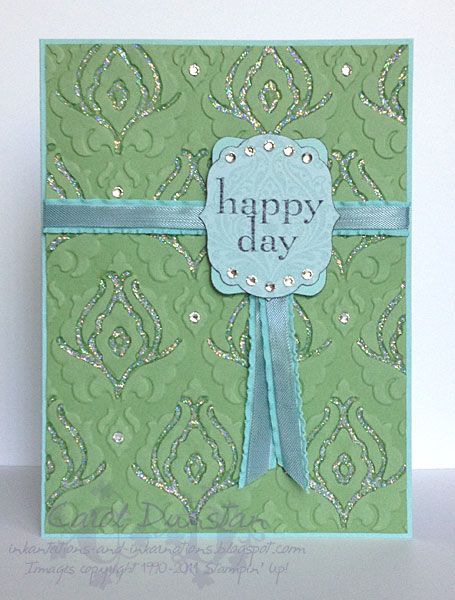 Time for more ye olde cards. Both of these were made so long ago it's a struggle remembering what I used on them! The Happy Day card was another case of products I loved but hadn't used a lot. I love old style patterns like what was used in the Beautifully Baroque stamp and embossing folder. I wanted to give the background a fuzzy velvet look and feel, so once it had been through the embossing folder I went over it with the sanding block. I've seen a lot of people do it since, particuarly with this embossing folder - great minds think alike! I then went over the indented parts of each motif with the Dazzling Details glitter glue and added some rhinestones for a luxurious sparkly effect. If there had been matching patterend paper I probably would have stamped my sentiment on that, but since there wasn't I basically made my own.
The Octonauts card was easier in some respects, as it was to accompany a present of Octonaut bath toys. So the decision of what to make the card was easy, the how was a little harder. After some experimentation (how most punch art goes!) I came up with reasonably simple ways of creating the faces, but there weren't really any short cuts I could take with the hats so they were hand cut.
Happy Day card
All supplies by Stampin' Up!
Cardstock: Pool Party, Pear Pizzazz, Baja Breeze
Stamp sets: Beautifully Baroque, Happy Day
Ink: VersaMark, StazOn Jet Black
Accessories: sanding block, Pool Party ruffled ribbon, Baja Breeze seam binding ribbon, Decorative Label punch, Beautifully Baroque embossing folder, Labels Collection die, Dazzling Details glitter glue, Rhinestone Basic Jewels
Octonauts punch art card
All supplies by Stampin' Up!
Cardstock: Pacific Point, Bashful Blue, Pool Party texturedSoft Suede, Very Vanilla, Tempting Turquoise, Basic Black, Pumpkin Pie, Basic Grey, Whisper White
Stamp sets: Itty Bitty Banners
Ink: Pacific Point
Accessories: 1 3/4" circle punch, Large Oval punch, Itty Bitty Shapes punch pack, Small Heart punch,
Slot punch, Owl Builder

punch, Circle Scissors, Bitty Banners Framelits, white gel pen, Pacific Point marker, Basic Black marker