I'm sure you can imagine that I was exstatic to be asked to guest design for
Cinema Saturday
's Lord of the Rings: The Two Towers challenge. Those of you who have seen the Extended Edition dvd sets will have noticed that each one has a different style - FOTR is Elvish, TT is Rohirric (if that isn't a word it is now!) and ROTK... well maybe I will save that for when the girls nominate that as the weeks challenge! Anyway, it seemed that the thing to do would be to make something for The Two Towers that had a Rohan theme. One thing that really stood out for me was all the banners that are displayed in Meduseld, so I selected one and based my piece on that. I also have a bookmark of one of these banners, so I decided to make one of my own.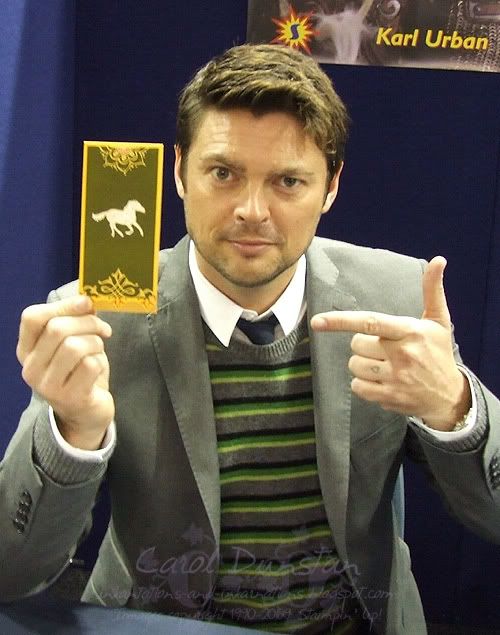 Thank you to my lovely assistant
Karl Urban
for helping me to present my bookmark to you.
Here's a closer shot of it. I used the emboss resist technique for most of this card as I wanted details in yellow on a green background. The horse was embossed with white, and I then went over it with my VersaMarker to fill the gaps and create a border and then embossed in clear. The base has a fold along the top so it will fold over your page.
Most supplies by Stampin' Up!
Cardstock: More Mustard, Summer Sun, So Saffron
Stamp Sets: Carte Postale, Wanted, One Of A Kind
Inks: VersaMark, Ruby Red, Garden Green (I think... it's been a while)
Accessories: white embossing powder, clear embossing powder, 1 3/8" circle punch (again I think, it's been a while), brayer
PS For the curious... I knew there would eventually be a CSCC for The Two Towers, and when working on cards for Fellowship I had ideas sparking for this. I then found out that Karl Urban would be attending the SupaNova convention in Sydney, so I made the bookmark and took it along and got him to pose with it. Squee!