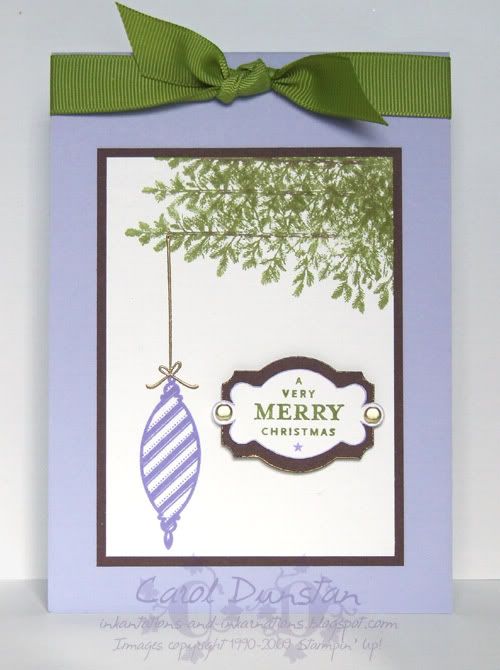 Two Christmas cards in two days and it's only August! It's a bit crazy, but that's all that I have photographed at the moment sorry! This card uses another set from the Spring mini, Tree Trimmings, which features three ornaments and the string/tie image for hanging. With Peaceful Wishes retiring in April, I had to think or another set with greenery I could hang my ornament from for this card. It suddenly hit me that by stamping "the" Lovely As A Tree tree sideways, I could make a branch without a branch stamp! I say "the" Lovely As A Tree tree as this tree gets used a lot on Christmas cards and is quite possibly the most used stamp from that set. I embossed my ornament 'string' in gold, and to compliment this I used gold brads on the sentiment. I also edged the Chocolate layer under the sentiment with my VersaMarker and embossed that with gold too.
It hasn't come up well in the photograph, but the tips of the leaves are a lighter colour than the rest of the branch. After inking the image with Old Olive, and going over the wood part with the Chocolate marker, I stamped off the edges onto scrap paper, then touched them up with the Celery marker.
Most supplies by Stampin' Up!
Cardstock: Almost Amethyst, Chocolate Chip, Whisper White
Stamp Sets: Tree Trimmings, Lovely As A Tree, Punches Three
Inks: Lovely Lilac, VersaMark
, Old Olive
Accessories: Chocolate Chip marker, Certainly Celery marker, Lovely Lilac marker, Designer Label punch, gold embossing powder, gold brads, 5/8" Old Olive grosgrain ribbon, dimensionals, VersaMarker (not available through SU!)