As I mentioned before, I got into stamping and card making initially so I could making birthday cards for family members. That soon extended to Christmas cards. I don't know what it is about Christmas cards, but every year I love making heaps of them, even when I have left it to the last minute and it's a bit of a mission to get them done in time.
I'm not big on the traditional colours for Christmas, but I know I have relatives who do prefer traditional coloured cards, so this one is for them. The stamping on this is very basic but i have added a lot of little features so it is a little time intensive but if you do it product-line style (complete each step on all cards before moving onto the next step) things do go quicker.
All supplies by Stamping Up!
Cardstock: Garden Green, Ruby Red, Very Vanilla
Stamp Sets: Lovely As A Tree, Warm Words
Inks: Garden Green, Ruby Red, Wild Wasabi (for sponging)
Accessories: 3/16" scallop punch, large oval punch, 1/8" circle punch, metallic eyelets, Wild Wasabi double-stitched ribbon, Earth Elements brads, Crafters Tool Kit, Antique Brass hodgepodge, sponge dauber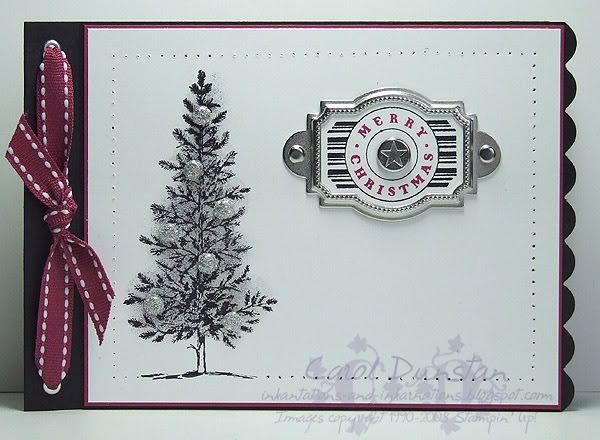 For this card I thought I would go even further than I normally do on the "non-traditional" colour scale. I still think a black Christmas tree looks a little odd, but i have seen a few this year in particular that when decorated look very striking.
Here's a close-up of the brads. I've attached a mini-glue dot to the top of a silver brad and then dipped the brad in Dazzling Diamonds glitter to get my sparkly brads.
All supplies by Stampin' Up!
Cardstock: Basic Black, Purely Pomegranate, Whisper White
Stamp Sets: Lovely As A Tree, Party Punch
Inks: Basic Black; Basic Gray and Going Gray for sponging
Accessories: 3/16" corner rounder, designer label punch, 1/8" circle punch, metallic eyelets, Purely Pomegranate double-stitched ribbon, Styled Silver hodgepodge, Vintage brads, mini glue dots, Dazzling Diamonds glitter, Basic Black marker, Purely Pomegranate "marker" (blender pen + reinker), sponge dauber
And now for my challenge to you: create aChristmas card using a colour combination you've never used for Christmas before (eg if you usually use red and green, use something non-traditional). Put a link to your card in the comments for this post and at the end of the week I'll pick my favourite one and send a little something to that person. Australian residents only, SU! demos welcome.