Firstly I have to say I was so dang surprised, chuffed and excited when I was asked to be guest designer for this week's
Cinema Saturday
movie. I am a huge LOTR fan - I've done the convention and costume thing (see exhibit A to the right -> they are not my natural ears), my ringtone is LOTR related, there are multiple things throughout the house that are LOTR related… you get the picture
. I have been literally bouncing, and randomly giggling to myself all week as another idea pops into my head. Initially I couldn't think where to start, and then I realised that starting wasn't the problem… the problem would be stopping! Anyway, when I really thought about the one main thing that I wanted to focus on for this movie, it was the hobbits. Particularly their homey nature and fun-loving ways despite everything that is going on. While there is that undercurrent of trouble through the early part of Fellowship, it's still largely fun times with Gandalf's arrival and Bilbo's party, so I kind of went with those. I had two main ideas in my head: the Party Tree and Bilbo's door. I decided to combine them. So we kind of have a framed picture of the tree hanging on the front of Bilbo's door, brass doorknob and all, along with the birthday banner. The tree and frame was simple enough, I had to dig around for a "brass" brad large enough for the proportion, and for the banner I printed that out from my computer (I have like 10 LOTR fonts, this one is 'Hobbiton Brush Hand'). In the movie the banner has some green swirls around the writing, but I chose to move those to the bottom of the door. For me, LOTR is where I really fell in love with all those swirly sorts of patterns.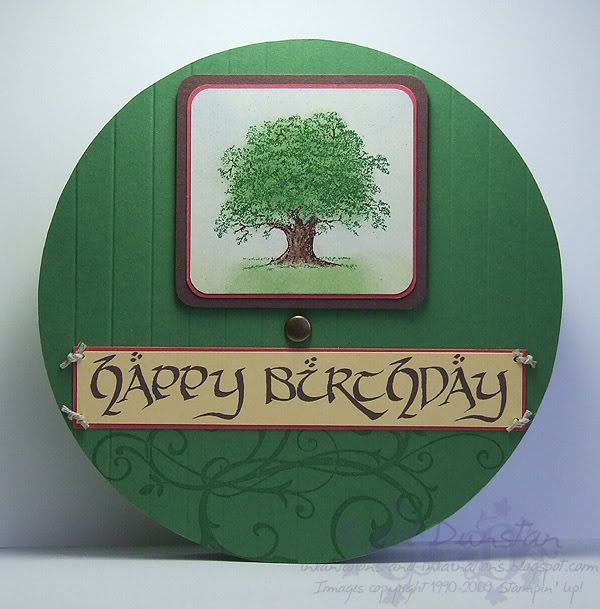 Being such a huge fan of these films, and knowing the incredible about of work and detail that went into making them, I felt I too had to put some work into this card that wouldn't be initially obvious… so inside the card you have the hinge. I'm trying to be less anal and ignore the fact that my door opens on the wrong side and opens out rather than in as Bilbo's does…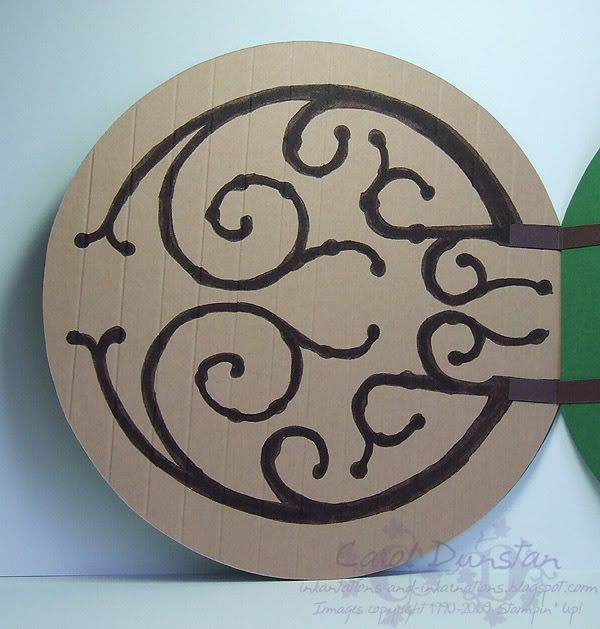 Now, how was it all done? The first thing was to make the door... I spent a good while walking around the house for something round and the right size to trace around since I don't have any fancy circle cutting tools. Upon finding a bowl the perfect size, I traced it on Garden Green and Caramel cardstock and cut them out. I then cut another slightly larger Garden Green one for the front of the door. Of course, it was only after I had the card all together that I realised the back piece didn't have to be Green as well, and a better colour would have been Naturals Ivory to match Bilbo's walls...
Moving along... I used the scoring blade in my trimmer to score the front and back of the door so it looked like planks of wood. The "Party Tree" was inked with markers and stamped before I sponged the other colours over top. Because the tree trunk is narrower than the sponge dauber I used the side of a cotton bud instead, which worked even better because it created a mottled effect. I rounded all the corners for the tree layers and stuck them all together.
Like I said above, I printed out the "Happy Birthday". I did it this way for a couple of reasons... one being I didn't have an alphabet stamp set that was the right size and style, another being I had this font already, so why not use it? And thirdly... because I am anal and there really was no other option! I attached the banner to the door using pipeweed twine (I mean hemp twine!).
To replicate the hinge decoration on the back of the door I merged a couple of screen shots from the movie together so I had most of the pattern in one image, resized it and printed it out. I then laid the print out over my Caramel cardstock and traced over the outlines to indent the cardstock. Then I simply went over those indentations with the fine tip of my Chocolate Chip marker before filling it all in with the brush tip. I very nearly put Aged Copper brads where all the bolts should be but I decided that was going a bit far and would make the card very heavy and lumpy on the inside.
Now, remember how earlier I mentioned that I kept getting ideas for cards inspired by this movie? Well, I managed to carry out a few of those ideas, so you'll be seeing many more Fellowship of The Ring cards here over the rest of the week
. In the mean time I will point you towards one other Lord Of The Rings card I have already made, a
Legolas card
.
Most supplies by Stampin' Up!
Cardstock: Garden Green, Chocolate Chip, Ruby Red, Naturals Ivory, So Saffron, Creamy Caramel
Stamp Sets: Lovely As A Tree, Baroque Motifs
Inks: VersaMark; Certainly Celery, Wild Wasabi, Bashful Blue and Chocolate Chip used for sponging
Accessories: Chocolate Chip marker, Garden Green marker, 3/16" corner rounder, non-SU brad, 1/16" hole punch, hemp twine, Hobbiton Brush-hand font, sponge dauber, cotton bud, dimensionals
Show watched while creating:
Fellowship
of course!